Fifa poppy fine for FAW decision 'shocking' - Iwan Roberts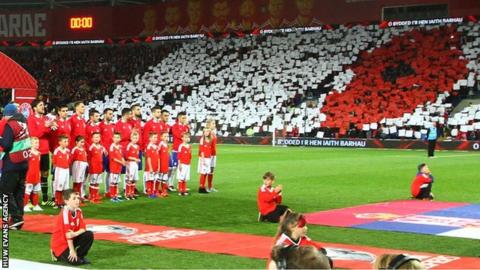 Ex-Wales international Iwan Roberts says Fifa's decision to fine Wales for displaying poppies at a World Cup qualifier with Serbia is "shocking".
All four home nations were punished over the matches in November.
England and Scotland wore armbands while Wales and Northern Ireland featured displays on the pitch or in the stands to mark Remembrance day.
"It's an absolutely shocking decision by Fifa, but you know what? I'm not surprised," said Roberts.
"I think at the minute they're an absolute shambles of an organisation."
The Football Association of Wales will not be making any decision public before Christmas regarding Fifa's fine.
Fifa regards the poppy as a political symbol, which its rules forbid being displayed at matches.
Claudio Sulser, disciplinary committee chairman for Fifa, said: "The display, among others, of any political or religious symbol is strictly prohibited."
Scotland and Wales were both fined 20,000 Sfr (£15,694), and Northern Ireland 15,000 Sfr (£11,770).
England's Football Association will appeal against the fine of 45,000 Swiss francs (£35,311), with Scotland, Wales and Northern Ireland yet to decide.
A Scottish FA (SFA) spokesman confirmed discussions between the home nations have already taken place and an official appeal is likely to be lodged early in the new year.
Roberts, who played 15 times for Wales, claims Fifa lacks credibility and has lost the respect of fans.
"To fine the home nations for respecting people we've lost in the World Wars is shocking," he added.
"I know there's rules and regulations and we're governed by them, but I think it's an absolutely shambolic decision by Fifa and I do hope that Wales follow in the line of England and appeal the decision.
"I think they're detached from fans. They are the governing body, but they've lost so much faith in the footballing community and I think it's a laughable decision, I really do."
A spokesman for the Football Supporters Federation Cymru said fans were outraged by the decision.
"For the vast majority of supporters, wearing a poppy is not a political statement but a symbol of remembrance," said Vince Alm.