Joe Worrall: Nottingham Forest defender questions desire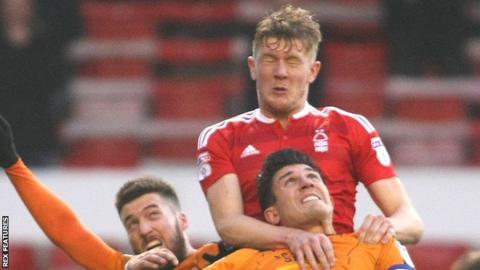 Nottingham Forest defender Joe Worrall has questioned the team's desire after Saturday's 2-0 defeat by Wolves.
The Reds are 17th in the Championship, six points clear of the bottom three.
Worrall told BBC Radio Nottingham: "I think, as a collective, we don't back each other enough and it comes down to determination at the end of the day.
"I was a bit embarrassed picking up the man of the match as I don't think I deserved it, or any of us deserved it to be honest."
The 19-year-old Forest fan broke into the first team this season and made his debut at the end of October against Reading.
After three successive victories, the Reds have now not won in their last three outings, including a 3-0 defeat against local rivals Derby County.
"The fans are right, I had a little look at Twitter and seen some of the reaction and they are spot on," continued Worrall.
"The players should go out there and relish the chance to play for the club.
"Wolves have come here and outplayed us, out-headed us, out-tackled us. It pains me to say that. I don't want to be coming out and saying it, but it's true.
"I think something needs to be done quickly otherwise we will be right down there. The belief is there and we have the confidence. We have had a lot of injuries but that's no excuse."
Watch the full interview on BBC Nottingham Sport's Facebook page.