FA Vase: Durham FA seek clarity after Newton Aycliffe and Morpeth clash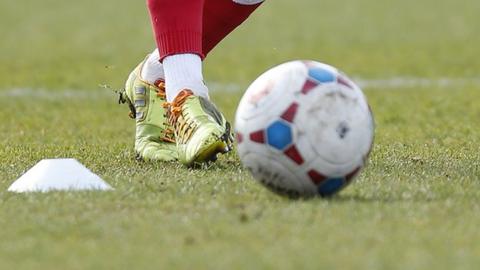 The Durham Football Association have asked Newton Aycliffe for more information as it investigates how players fought their way into their FA Vase opponents' dressing room.
Boss Peter Dixon and some players left after the incident against Morpeth.
But Durham FA secretary John Topping said individuals were not yet identified, despite taking statements from both clubs and the match official.
"Nobody has put forward a really detailed account," Topping said.
"I've written back to Newton Aycliffe to seek clarity on certain points."
A number of Newton Aycliffe players allegedly involved in the incident following their FA Vase defeat by Morpeth have since left the Northern Football League Division One Club - the ninth tier of English football.
And manager Dixon was dismissed "due to the on-going ill-discipline".
Video footage from Newton Aycliffe's Moore Lane Park ground shows a number of the home side's players running towards and gathering at the Morpeth dressing room door.
It is the second time in five months that Newton Aycliffe have been the subject of a Durham FA investigation after Spennymoor Town refused to play the second half of a pre-season friendly in July after the match took an "aggressive direction".