SFA: Malky Mackay will 'aim to prove doubters wrong' - McLeish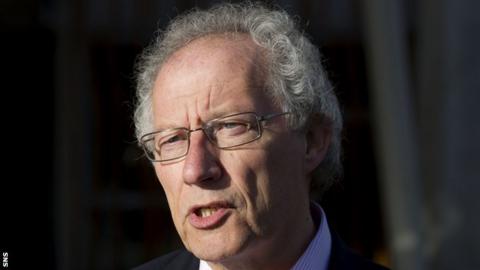 Ex-First Minister Henry McLeish expects Malky Mackay to face "a tremendous challenge" as SFA performance director but insist he will not be alone.
The youth development role was one of the key recommendations of McLeish's Scottish football review in 2010.
Mackay's expected appointment has attracted criticism after well publicised and controversial texts he sent when he was Cardiff City manager.
"It's up to him to prove his doubters wrong," McLeish told BBC Scotland.
"He's made some statements in the past that created some controversy and, hopefully, he's taken responsibility for all of that."
Youth programme 'working, but needs improved'
Mackay was the subject of an English FA investigation in 2014 concerning messages he had sent containing discriminatory language.
The Scot apologised for his actions and voluntarily undertook diversity training and anti-racism campaigners have backed his appointment by the Scottish FA.
However, SNP MSP Clare Haughey called on the SFA to "see sense" and rule out Mackay as a candidate, arguing his appointment would send out the wrong signals.
Mark Wotte and Brian McClair previously held the performance director role, with the latter staying in the job less than two years.
"We are on a journey here," McLeish explained. "We started it in 2010-11 and a lot of significant progress has been made.
"Malky's going to have a tremendous challenge. He won't be alone: he's got to work with clubs and work with every aspect of the game; including the new academy structure, which is being reformed.
"I remain optimistic that we've made some progress but a lot more progress has still to be made.
"The youth programme is working but there are big improvements we can make.
"What we've got to look at in terms of Iceland and other countries is the most effective use of facilities.
"For Malky, one piece of good advice is: this is a listening job as well as a doing job."
'We don't really have any excuses'
Scotland have not reached the finals of a major tournament since the 1998 World Cup in France, while at club level no Scottish club other than Celtic have had group stage involvement in Uefa competition over the last five years.
"A lot of people say to me we're too small, we're too this or too that, we're running out of excuses," McLeish insisted.
"In terms of European Championships and our current progress in the World Cup, we're not in good shape and our football isn't good enough, relative to our European counterparts.
"I believe that like, any other country in the world, we do have the talent. Let's identify it and let Malky work with all the academies, the SFA and the club's set-up, so that when we identify talent then it can come to the fore.
"The big issue for Scotland is that we've got to have a much bigger ambition. You look at countries like Wales, Northern Ireland, Serbia, Albania, Iceland - we don't really have any excuses.
"I defy anyone to argue that Scotland isn't brimming with talent. Our challenge is to identify it and then make sure we bring it to club and international level."