Malky Mackay: Why does the Scottish FA want ex-Cardiff boss for performance role?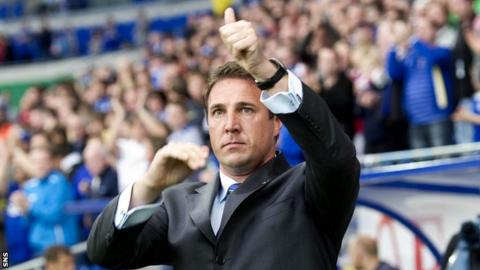 As he prepares to shape the future of youth development in Scotland as the Scottish FA's new performance director, Malky Mackay cannot rely upon personal experience alone.
His journey into professional football involved playing as an amateur for Queen's Park while working in a bank, the kind of circumstances that current academy players would balk at.
Mackay's route to the top of the Scottish game was unorthodox even in 1993, when he left amateur football to join Celtic as a 21-year-old. As a coach, he has primarily worked with first-team players, but his inclination has always been to think beyond the boundaries of the senior dressing room.
His managerial career was forged at Watford, where he played under Aidy Bothroyd and then coached alongside Brendan Rodgers, two managers who have worked extensively in youth development. When Mackay moved to Cardiff City, he embraced the task of building the football infrastructure of the club as well as the first-team squad.
What makes Mackay the ideal candidate?
Unlike some managers, Mackay has not wished to be restricted to first-team matters alone. He believes that the football departments of a club - the academy, the medical team and the recruitment staff - needs to be strong to support the team's ambitions.
That mindset alone does not separate him from the other performance director candidates, but it is an illustration of the breadth of his interest. The role requires strategic thinking, since decisions made about the Project Brave initiative - to evolve the current youth development set-up in Scottish football - will need to deliver long-term results.
Mackay has worked at a high level in England, guiding Cardiff City to the Premier League, but he is also well-known to Scottish football figures given his playing time at Celtic and the Mackay family's long-standing involvement with Queen's Park, where his father, Malky senior, is a director.
There is a strong network of contacts in the game, with Celtic boss Rodgers, Aberdeen manager Derek McInnes and Rangers boss Mark Warburton all publicly voicing their support in recent weeks. That kind of backing from three of Scotland's four leading clubs is significant when part of the job requires the politicking skills to lead change within a game that is often reluctant to adopt new ways of working.
Mackay is close enough to Sir Alex Ferguson to regularly seek advice, while previous employers such as Sir Elton John at Watford and Delia Smith at Norwich also stay in contact. Mackay communicates well and is clearly adept at relationship-building, something his predecessors in the job - Brian McClair and Mark Wotte - needed to do.
Why do some consider the appointment to be wrong?
Mackay spent nine months out of football after details emerged of text messages with Cardiff City's former sporting director Iain Moody that contained discriminatory language. The situation was complex - there were thousands of text messages, Mackay was involved in three and the Football Association's investigation did not lead to disciplinary action, but was instead widened "due to serious concerns about the circumstances in which particular evidence had been given and the reliability and completeness of that evidence".
He feels vindicated by the FA's conclusion, but Mackay does not claim innocence. He apologised after admitting to "mistakes", that the messages were "disrespectful of other cultures" and he voluntarily undertook equality training. It is an episode that has continued to stalk Mackay's reputation, and his only job since leaving Cardiff City was a five-month spell at Wigan Athletic.
When Mackay was appointed, some fans railed against the decision, while the anti-racism campaign Kick It Out also criticised Wigan owner Dave Whelan. At the time, the FA's investigation was still ongoing.
Mackay has sought to address the matter during his time out of football in a series of interviews, and it is clear that many within the football community continue to support him. Public opinion is more critical, though.
How will he carry out the job?
Mackay spent much of his time out of employment travelling around Europe to widen his knowledge. He visited David Moyes at Real Sociedad, Rodgers when he was at Liverpool, the Bundesliga club Inglostadt, and the San Diego Chargers.
He also spent time with his friend Ray Kelvin, who built Ted Baker into a leading retailer, to discuss management techniques. The result was a written manual, that Mackay had leather-bound, on how to build a club's infrastructure. Not all of it will be directly applicable to the performance director role, but it is an example of his ability to devise and implement frameworks and then measure their success against pre-defined indicators.
Mackay can manage people and strategise. Both skills will be important as he considers a series of proposals to fine-tune Scotland's youth development pathways, including reducing the number of elite academies and the number of children who enter the academy system.
His role, though, is not to coach. Mackay is moving out of the management front line and into football administration. There are overlaps, and he needs to have a vision that can be delivered, but it is a change of environment.
Mackay will need to persuade, cajole and lead Scotland's clubs, and deal with the sometimes competing interests of academy heads and chief executives. That requires perseverance, certainly, a quality he showed throughout his career.
There are problems to solve. Mackay will have to be part diplomat, part leader, part administrator and part football man to bring all sides together. His career has been long and varied, but also extremely challenging. He will be well served by some of it, and often battling against other aspects of his past.