John Terry: Chelsea and captain have not met to discuss his future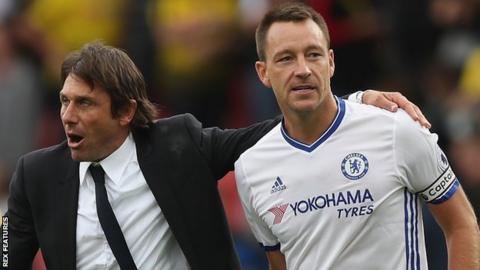 Chelsea have not met with captain John Terry to discuss his future, with the 36-year-old's contract expiring at the end of the season.
The Times reported on Tuesday that the former England defender would not be offered a new deal.
"He loves this club and I think it's important to be focused on the moment and not the future," Blues boss Antonio Conte said about Terry.
Terry signed a 12-month deal last year after considering a "different role".
Conte added: "John is our captain. I think he's doing a good job. When he's not playing he's helping me in the changing room to send the right message to the players."
At Tuesday's news conference, Chelsea's head of communications Steve Atkins told the media: "That discussion [about a new deal] has not taken place between John and the club. It's something that will happen later in the season."
Terry has made five starts this season and another two appearances as a substitute as Conte's switch to a three-man defence - comprising Gary Cahill, David Luiz and Cesar Azpilicueta - has coincided with a run of nine successive league wins.
Conte dampens Fabregas speculation
Amid speculation that the Spanish midfielder could move on loan in January, Conte reiterated that Cesc Fabregas is still a key part of his plans.
"Cesc is always a good choice for me. I repeat - he is an important player. He is in the squad and now this is the reality," said Conte, while adding that "in football it is difficult to guarantee something".
Fabregas, 29, has played just twice since the Blues' 3-0 defeat by Arsenal on 24 September as he has found himself sidelined by a thigh injury and Conte's reorganisation.
Azpilicueta earns new deal
Azpilicueta's good form has been rewarded with a new three-and-a-half year contract that extends his stay at the club through to June 2020.
The 27-year-old signed from Marseille for an initial fee of £6.5m in August 2012 and Conte believes that it has proved a shrewd signing.
"Look back, it was a good piece of business. Now, I think, his valuation is very high. He's an important player who can play in different roles, so it was a good affair for the club," said the Italian.
Azpilicueta said: "We have a new manager with new ideas and I'm really happy to be working with him.
"Obviously we can still improve but the long-term aim for us is to win trophies, that is what we all want, the players, manager and fans."