Swansea City: Jermain Defoe poses danger says manager Bob Bradley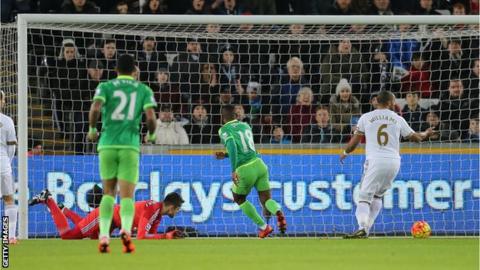 Bob Bradley says stopping Jermain Defoe is the key as Swansea prepare for a "huge" game with Sunderland.
The Swans are bottom of the Premier League, a place behind the Black Cats and Bradley is wary of the threat of the 34-year-old England striker.
Defoe scored a hat-trick at the Liberty Stadium last year and has scored eight goals this term.
Bradley also says Saturday's relegation clash is one of the biggest games he has been involved with.
Swansea have won only once since Bradley's appointment in October and he has hit out over criticism of his accent, claiming some ex-players have talked "garbage," about him.
Always worry about Jermain Defoe
Bradley is only too familiar with Defoe, who joined Toronto on the same day as Bob's son Michael Bradley.
"Michael and I have talked about Jermain so many times over the years," Bradley said.
"He has a lot of nice things to say about Jermain.
"I don't think Jermain settled as well [as Michael did] I think he was homesick.
"I have seen Jermain so many times. Everyone knows Jermain has made a career out of a savviness in the way he moves and lethal finishing.
"He still finds those little cracks and chinks and, if allowed, scores goals. We must recognise where he is and close him down, because he is a striker who lives off the tiniest spaces."
As important as a cup final
Bradley knows the pressure on his own position will mount if Swansea fail to beat David Moyes' side, but he wants his players to embrace the magnitude of the match,
"We all know how big this match is, our version of a cup final. We've had a few of those already, but it feels like the biggest one," he explained.
"Sure, I could give you other incredibly big games, some went well, some didn't, but when you look at what has transpired here.
"We are 14 games in, seven for Francesco, seven for me, and bottom of the table.
"You have a real challenge of getting ourselves through this. If you get it at all, if you are honest with yourself, you know this is a big game."
Pressure, what pressure?
Despite Swansea's predicament and poor run of form, Bradley who is now as short as 10/11 favourite to be the next Premier League boss to lose his job, insists he is not worrying.
"Have I had assurances on my future? Nobody speaks like that. Come on," he told BBC Wales Sport.
"If they were having those discussions, quite frankly, would I be privy to those conversations? No I wouldn't.
"I don't spend any time with my ear to the ground trying to figure out that kind of stuff.
"I understand we need results. I understand that when you take over a team in a tough spot, results in the early days are hard to get, but are critical.
"I have said to many people since I got here, I am confident and I know my work is good. I know I have a way to challenge and make sure the players are on board.
"I don't spend any time thinking about my own future. When you are a manager it goes with the territory. I expect it.
'I told my wife I had a meeting and she said 'will you still have a job after it?' I said 'who knows?'
"At the moment, we all know we are in this together."