Dean Keates: Wrexham boss 'expects response' against Tranmere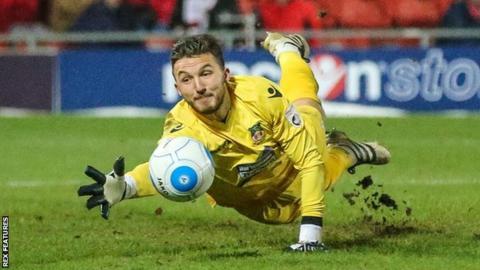 Manager Dean Keates expects a response from Wrexham's players following their midweek defeat by Macclesfield Town.
Wrexham host Tranmere Rovers in Saturday's FA Trophy first round on the back of a 3-0 home defeat by Macclesfield in the National League on Tuesday.
Keates described his side's performance as "embarrassing" and "indefensible".
"It wasn't good enough and they know that but it's happened and we've got to go forward," said Keates.
"I expect a response and they're saying there's going to be a response.
"All being well we'll get the performance that everybody's expecting. We need a win."
Goalkeeper Luke Coddington has returned to Huddersfield Town after completing a month's loan at Wrexham.
Coddington, who was brought in by Keates because of injuries to Shwan Jalal and Chris Dunn, played in five games for Wrexham.
"He's been outstanding and I can't speak highly enough of the lad," Keates added
"He's enhanced his own career and all being well it will take him forward."