Peter Whittingham: Midfielder set for new Cardiff deal, says Neil Warnock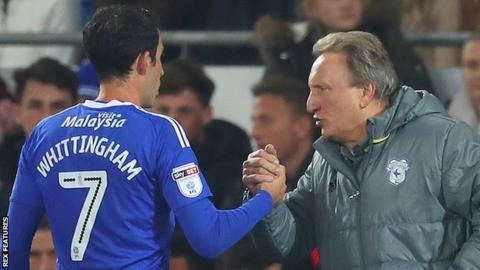 Cardiff City manager Neil Warnock says Peter Whittingham will be offered a new contract by the Championship club.
The 32-year-old midfielder, whose current deal expires at the end of the season, will have spent 10 years with the Bluebirds by January.
"Financially it might be a little bit different but I think as you get older you have to accept things like that," said Warnock.
"You can't be on the money you are on when your are in your prime."
Warnock added: "But I am sure there will be a contract for him."
Whittingham is approaching 450 appearances for Cardiff, who he joined from Aston Villa in January 2007.
Warnock believes he is a "one-off" and has "five or six years" left in his career.
"He looks after himself, whether he can stay at the Championship level for five years, it's very difficult," said the Cardiff manager.
"At the moment to get him week in, week out in the Championship is very difficult for me, but he has a big part to play.
"So it depends how long he wants to play, whether he wants to finish his career at Cardiff or whether he wants to play elsewhere."
'Whittingham like Bobby Charlton'
Whittingham has made 19 appearances for Cardiff this season, scoring three goals.
Warnock added: "What he has got, nobody else at the club has: he's got a mind, a vision, a brain that's twice as quick as anybody else.
"When a ball comes to him I am thinking 'get rid of it,' he sees things that are impossible for anybody else to see. He makes it look so cool.
"I remember I used to think Bobby Charlton used to cheat, because he never ran about. Later on I realised he was that good he did not have to run about, he used his brain. That's what Peter does."
Cardiff have injury worries ahead of Saturday's Championship encounter with Ipswich at Portman Road.
Four players missed training on Thursday with a sickness bug, while Wales right-back Jazz Richards has suffered another setback in his recovery from several injuries.
Warnock added: "I have not got many Christmas presents but I'm hoping they wrap him up and give him to me as a Christmas present so I can actually use him. I'm not sure what colour bow should be on it."