Dundee United: Ray McKinnon relishing being back where it all began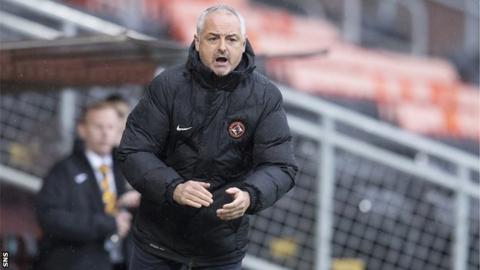 Ray McKinnon's managerial career remains in its infancy but his progress reflects a "hunger" instilled by experience inside and outwith football.
A playing career under two of the most eminent managers ever to operate on these shores has clearly had an impact on the Dundee United boss. Who couldn't learn something from the likes of Jim McLean or Brian Clough?
Perhaps most important, though, has been the words of McKinnon's mother, whom he cared for through illness at the end of his playing career.
"All your life you see yourself just as a football player," McKinnon told BBC Scotland's Sportsound in an interview broadcast on Thursday.
"It's got to come to an end at some point.
"At that point in my life my father passed away and my mother was ill. I didn't really have an identity at that moment and just sort of became a carer, taking care of my mum every day.
"That was my life for a couple of years. You sort of lose your identity. You forget who you are.
"I was managing Lochee United and at that point my mother was so wanting me to go and do well for myself.
"She was the one that pushed me to go down to Largs and do my B licence and A licence."
As a result, McKinnon was eventually employed by the Scottish FA to work under Jim Fleeting and Donald Park.
"When she heard that news, she passed away three weeks later," McKinnon explained. "She was a huge inspiration to me.
"It was a good time out of the game for me. It made me hungry again. I wanted that identity back.
"She said, 'if you're good at something, go and be good at it'."
'United are a top-six club in Scotland'
When Mark Wotte was appointed SFA Performance Director, McKinnon took the chance to move to Brechin City, which set him on the path to Tannadice via a spell at Raith Rovers.
Despite supporting United as a boy and enjoying two periods at the club as a player, the decision to move to United wasn't straightforward.
"I'd got to a point in my life where it was important things were right for me," he said. "I had to make a career decision.
"There was a lot of unease at the club. The fans were uneasy. Relegation leaves scars.
"At Raith we'd built something up as we'd done at Brechin and I'm ambitious and you want to keep that momentum going forward.
"It took over a week to make a decision and thankfully I made the right decision. It's fantastic to be back."
The challenge was monumental. There was a mass exodus of players to replace following demotion to the Scottish Championship and expectation to regain their Premiership status, with Hibernian the main threat.
"The job had its challenges right from the off," said McKinnon. "We knew we had to recruit well. We didn't have any room for mistakes.
"We do feel we're a top-six club in Scotland. The expectation levels are so high and we had to rebuild the squad very quickly and do it completely differently to how it was before.
"Up to now, they're all performing."
It seems so. United are joint-top of the Championship with McKinnon's progress as a manger remaining on an upward trajectory.
As the conversation drifts back to the influence of his parents, there's a tear in his eye. He's come a long way.
"It's a very proud feeling that I have," he added. "Someone who knew my parents mentioned at a sponsor dinner that they'd be very proud.
"I'm happy. We just want to keep doing well and keep moving this club forward."