Mark Warburton: 'Rangers have to learn in tough division'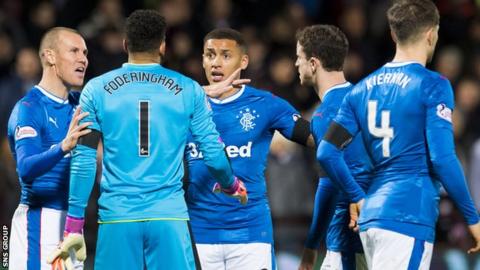 Manager Mark Warburton has dismissed concerns over Rangers' form against last season's Premiership top three.
Following Wednesday's 2-0 loss at Tynecastle, Rangers have lost to Celtic, Aberdeen and Hearts this term.
The Dons got to Ibrox on Saturday, with Hearts making the same trip in the league next weekend.
"Yes, you may beat two teams around you but if you lose the next four games against teams lower than you, it's irrelevant," said Warburton.
"The fact is it's a tough division and points don't come easy."
With unbeaten Celtic threatening to run away with the league, a battle is brewing for second spot, with just two points separating Hearts, Rangers and Aberdeen.
"We have to get better and learn," Warburton said reflecting on the midweek defeat in Edinburgh. "We didn't do what we do well. We didn't get on the ball, we didn't get started.
"We knew Hearts would press. We felt beforehand that would be the tactics - they did it well and they were brave. But we had to be braver, and we had to find solutions to get out.
"The pitch was difficult but we are better than that, and we have shown time after time that we are better than that.
"We have to be more dynamic in our movement, show good variety, to trust what you do and trust movements that you have rehearsed. And sometimes you have to beat the press by going long, and trust yourself to go long in a cultured manner.
"The players are an honest group. They are the first to admit, we are the first to admit, that we didn't go through the movements in a dynamic enough fashion to get the results we were after."
'Not slow starters'
Rangers have now scored the first goal in just six out of 15 Premiership matches but Warburton does not think there is a specific problem in how they start.
"We have started a number of games very well and gone in front in a number of games as well, it's 50-50," he said. "We never want to concede the first goal. But it doesn't give you a mountain to climb - it makes it harder for you.
"The fact is on Wednesday night we conceded two very sloppy goals, two tap-ins at the far post. To concede a goal in the 43rd minute isn't good timing. Up to that point it was pretty much neutral, both teams were below par. The stats confirm that, for the first first 30-35 minutes. They were two poor goals to give away and it's hard to come back from that."