Tony Pulis: Crystal Palace court case means West Brom boss must 'bite tongue'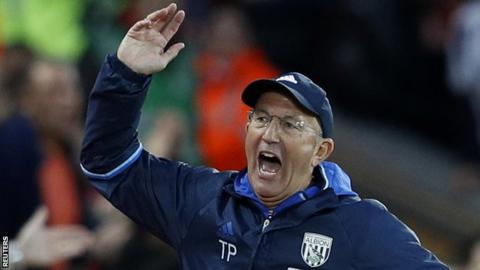 West Brom manager Tony Pulis says he has to "bite his tongue" at the moment after he lost a £3.7m High Court battle with former club Crystal Palace.
Pulis had challenged a decision by a Premier League Managers' Arbitration Tribunal that he must pay damages over the way he left Palace in August 2014.
But a judge ruled against him in the dispute over a £2m bonus payment.
"I'm really disappointed with the outcome and strenuously deny what has been said," insisted Pulis.
"But it's been done. I have to move on and we have to move on. I had 10 fantastic months at Crystal Palace."
Palace officials said Pulis told them he was committed to the club, but left two days after receiving a £2m bonus.
Pulis, 56, denied deceiving Palace into paying the bonus.
"One day, and it can't be now, but one day hopefully I'll get the chance to actually pick this through with everybody," added the Baggies boss, speaking before Saturday's home game against Watford.
"I know a lot of people, friends, family, people in this room and others, I'll let them judge my integrity and character.
"I've been advised by lawyers not to say too much at this present moment, but there will come a time.
"That's all I want to say at the moment. Let's move on to football and West Bromwich Albion which is much more important to me."