AFC Telford lose potential overseas investors over share restrictions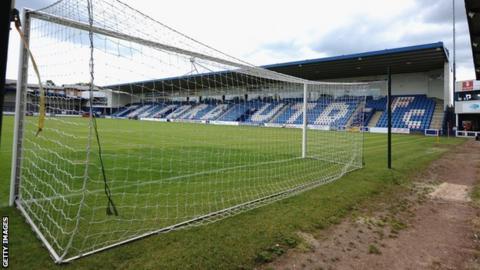 Two potential overseas investors have decided not to invest in struggling non-league club AFC Telford United because of restrictions over the number of shares they could buy.
The Shropshire-based outfit, who are 14th in National League North, announced in October that they were looking for new investment.
But the club placed a 20% cap on the amount of shares that could be bought.
In all, the Bucks have sold £170,000 worth of shares.
That is more than treble the original target of £50,000 in extra income that the fan-owned club had needed to raise in the short term, to improve a cash flow problem.
Telford, relegated from the fifth tier in 2015, were formed by fans in 2004 following the liquidation of the old Telford United.
Since being reformed at the eighth tier of English football, the Bucks have twice been promoted to English football's fifth tier, in 2011 and 2014, only to be relegated in 2013 and 2015.
Analysis
Nick Southall, BBC Radio Shropshire
Telford say 32% of the shares were sold before Tuesday's deadline, which means they are under-subscribed.
The sticking point for these two separate overseas investors appears to be the limit on the number of shares they could buy.
I understand one of the interested parties was very close to investing but decided not to at the last minute. That interest may come back if the club decided to waiver the 20% cap.
In order for that to happen, they are planning to hold an AGM before the end of February to vote on this issue.