Rafael Benitez: EFL Cup no influence on Newcastle changes in Blackburn loss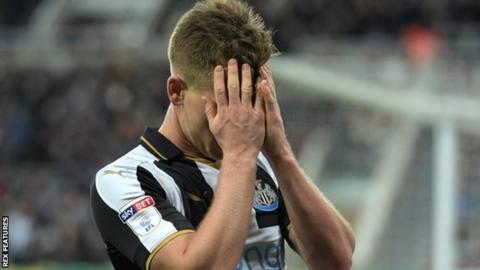 Newcastle United's team changes for Saturday's 1-0 Championship defeat by Blackburn were not influenced by Tuesday's EFL Cup quarter-final tie at Hull City, says manager Rafael Benitez.
The leaders made six changes, left Dwight Gayle on the bench, and missed out on a club record 10th straight win.
However, victory at Hull this week would put Newcastle into the last four for the second time in their history.
"I knew people would say that," Benitez told BBC Newcastle.
"If we won people would say the squad is strong, and if we lost, too many changes. We were showing enough quality in the squad to beat any team.
"Some were forced on us, for some it was a player who was competing well but we had too many players without the mentality or keeping the ball in the way we did in other games."
Benitez's side have lost three home games in 2016-17, against Huddersfield, Wolves and now Rovers, although they remain top by two points.
Rovers grabbed a late goal from Charlie Mulgrew, and were able to deny Newcastle's top-scoring attack, minus the Championship's top-scorer Gayle, an opening at the other end.
"You can give credit to Blackburn, they were aggressive," Benitez added. "But then again we gave away a foul when normally we keep the ball and then they put the ball in your box.
"If you have the ball in possession you keep the ball, but we were defending their set-pieces with their big lads all the time."