Champions League: Celtic exit Europe but hint at brighter future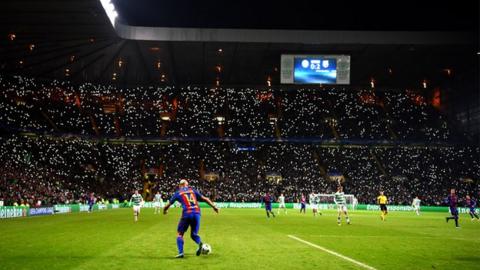 You wonder what Barcelona made of it all, this mobile phone-driven illumination of Celtic Park in the 67th minute of Wednesday's Champions League contest in the east end of Glasgow.
What had the home fans got to light up about with the visitors 2-0 ahead, and having come within a whisker of making it 3-0 just seconds earlier? Why cast the stadium in brightness when so much darkness clouded their soon-to-be-doomed involvement in Champions League, and even Europa League, football?
The younger Barcelona players wouldn't have had a chance of figuring out that this was a tribute to the European Cup-winning Lisbon Lions. They wouldn't even have heard of the Lisbon Lions. The older ones might have missed the historical significance of the timing of the display, but they'd hardly have been surprised that the home fans didn't just turn on their heels and vanish when the game was as good as up.
The Messis and the Piques have, after all, spoken fondly of Celtic Park in the past. One of the best places to play, they've said. One of the truly great atmospheres.
Messi called Parkhead a "special ground" in a tweet on Wednesday. He may not have understood why the lights came on when they did, but little else about the vibe would have confused them.
Celtic gave their best
Celtic bowed out of Europe, but it was a strange kind of exit. They played with purpose on the night, they fought and they harried. Could they have given more? No. They emptied their tanks out there. You can't do better than giving your best.
At 1-0, they had a fine chance to make it 1-1, but couldn't take it. A minute later, they got suckered and in a blink it was 2-0 and all that was left at that point was to delve ever deeper into the statistics in an attempt to come up with new ways to illustrate the freakish genius of Messi and his frightening chums Neymar and Luis Suarez.
If Barcelona's first goal was all about telepathy and accuracy and brilliance, their second was about pure cunning, another quality that they possess more than most. When Emilio Izaguirre got ensnared by Suarez in the Celtic box, you knew what was coming next. Poor Emilio, like the fly against the spider, didn't stand a chance.
Suarez manufactured the penalty quite beautifully. When Izaguirre got himself into a vulnerable position, Suarez knew he had his prey. He held Izaguirre close to him and was never letting him go. He tangled himself up in the Honduran until the time came to tumble. Down he went. And down Celtic went.
Twelve minutes later the fans did their thing with the torches on their phones. They sang their song about 1967 and for a team that was exiting Europe the mood was light and breezy. And you could understand why.
Progress, but Celtic still fall short
Celtic are making progress. Not enough progress to keep them in Europe beyond Christmas, but progress nonetheless. It's easy to scoff at that notion given they are winless at the bottom of their group and have conceded 15 goals in five Champions League games while scoring only four, but the context lies in where Celtic have come from.
For two seasons under Ronny Deila, they suffered one slap after another in their pursuit of Champions League football. They were routed by Legia Warsaw, they got done by Maribor, they lost to Malmo. And when they played Europa League, Molde did them in cold blood over two matches. Some of Celtic's supporters might have fretted that the slide into European irrelevance was, if not irreversible, then fiendishly difficult to reverse.
Brendan Rodgers' European work is about to get parked for a year, but what can be said is that Celtic have shown a capacity to learn lessons at the sharp end of the Champions League. Those lessons have been painful, but if you improve on the back of them then they're worth the pain.
Barcelona annihilated them 7-0, but their meek performance at Nou Camp was replaced by a thunderous 90 minutes in their next Champions League match against Manchester City. They grew up a little.
They lacked composure, precision and class in most departments in the 2-0 home loss to Borussia Monchengladbach, but put some fixes in place for the return leg and drew 1-1. They grew up a little more.
Even on Wednesday, there were things in their performance that showed their improvement. The concentration levels weren't perfect, but they were better. Their defending was more organised, their aggression lasted longer. Barcelona surely had extra gears had they required them, but this was a more combative Celtic.
When they finish off the group stage in Manchester in a fortnight they'll do so as a more streetwise side than the innocents who started the campaign in Catalonia.
Who can provide the X factor?
Rodgers knows what's he got at Celtic, a burgeoning young force at left-back in Kieran Tierney, a developing centre-half partnership in Erik Sviatchenko and Jozo Simunovic, a vastly-experienced right-back in Mikael Lustig. Tierney is 19, Sviatchenko is 25 and Simunovic is 22. The age profile back there is good.
He'll want better cover in both full-back areas, but as a frontline defence, ahead of a stellar goalkeeper such as Craig Gordon, that's a line-up that has a lot of potential.
Midfield is not so clearcut. In Europe, Rodgers needs more ballast alongside Scott Brown and more creativity and devil behind Moussa Dembele. He has a lot of midfielders who produce convincing stuff domestically and, intermittently, in Europe, but there is a need of an "X factor" that just isn't there often enough against the bigger teams.
Finding it is a herculean task. Everybody wants a playmaker and most of those who are looking for one are bringing bigger financial guns to the table than Celtic. Rodgers will have his eye on a few. It'll be fascinating to see what kind of calibre individual arrives in the next two transfer windows. He doesn't need quantity, he needs quality. Two or three and they go again.
The eulogies from Barcelona - and others - to Celtic Park and its people must be a source of pride for all at the club, but the next phase of Rodgers' plan will involve getting more than plaudits at Parkhead. They're in the points business. They won't have enough this time, but there are reasons to believe that better things lie ahead of them.