Gareth Ainsworth: Sido Jombati never in free-kick training, says Wycombe manager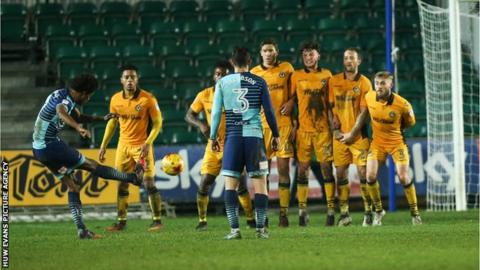 Wycombe manager Gareth Ainsworth says he may need to rethink his training ground free-kick takers after Sido Jombati's late winner at Newport.
Jombati's 88th-minute set-piece gave the Chairboys a 1-0 victory in Wales.
"It's funny - the day before games we work on free-kicks around the box. Sido's never in that group," Ainsworth told BBC Three Counties Radio.
"I think we better start putting him in that group and get rid of all the others. Wow, what a free-kick."
Ainsworth continued: "That was a big wall to get over and he used every inch of the crossbar to get it in.
"It was brilliant on the bench. I said to the lads on the bench 'I think he's got this' and I was proved right."
The victory lifted Ainsworth's side to eighth in the League Two table, a point outside the play-off places after a run of three straight league victories.
There had been concern over whether the match would be played on Tuesday because of the adverse weather in Newport, and Ainsworth was aware of what it would do to the quality of the game.
"We came here and knew what to expect," he said. "The kitman sent us a couple of pictures from when he came to drop the kit off and the pitch was unplayable at that time.
"I knew it would be a bog, very muddy, not much football played at all.
"We were resilient and few and far between were the chances for either team, so it was important to take and our Portuguese full-back has done it again."