Football must embrace disabled players and supporters - Danny Mills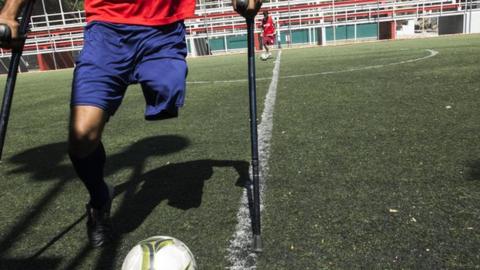 Football must do more to embrace disabled players and supporters, says former England defender Danny Mills.
Speaking at the launch of the EFL's Every Player Counts initiative, Mills said the sport must resist becoming "set in its ways".
More than £1m from the Wembley National Stadium Trust will be shared by 25 EFL clubs to increase opportunities and get 10,000 more disabled people involved.
"Football is huge for everybody. It brings people together," said Mills.
"People are still a bit scared of disability. Anyone who is a bit different, we fear. We've got to create safe environments and encourage people to get involved. It's hugely rewarding."
The donation is the Wembley National Stadium Trust's largest single donation and its first England-wide grants programme.
What does the scheme do?
Emphasis will be placed on increasing participation, improving health and championing the social benefits of taking part in football.
Club trusts will deliver a wide range of disability programmes. These will include wheelchair football, football for visual impairment, learning difficulties, amputees and autism, with the aim of giving many disabled people access to football for the first time.
In the first year alone, the project aims to engage 3,000 new participants across the country, creating 31 new teams and upskilling 130 coaches.