Adam Rooney: Aberdeen players desperate for another trophy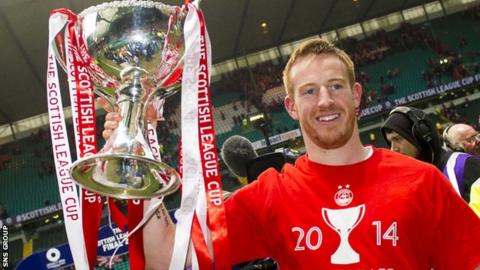 Scottish League Cup final: Aberdeen v Celtic
Venue: Hampden Park Date: 27 November Kick-off: 15:00 GMT
Coverage: Live on BBC Radio Scotland MW and digital
When the final whistle went that day at Celtic Park in mid-March 2014, Adam Rooney heaved a sigh of relief. The League Cup final against Inverness Caledonian Thistle was heading for penalties, but amid the pressure and the mayhem there was a strange kind of serenity.
Ryan Esson was Caley Thistle's reserve goalkeeper. Rooney knew all about Esson. They'd been team-mates together in Inverness. Rooney could not say how many penalties he had taken against him in training over the years but what he remembers clearly is Esson coming out on top.
"My first day in training at Inverness, I missed a penalty against him," says the Aberdeen striker. "From that day on, he could read me. He made so many saves. I'd make up my mind to hit it left, then reverse it, and he'd still stop it. I'd go down the middle and he'd know what I was at.
"I was so glad they kept him on the bench in the final. Dean Brill is very good, but Esson might have got into my head."
The kick to win the final fell, of course, to Rooney. He remembers the walk-up, kind of. The sea of Dons, 19 years without a trophy, 40,000 fans watching his every step. No pressure, son.
He remembers striking the ball, but his recollection thereafter is like an out-of-body experience. Left-side, right-side, straight? Was Brill near it? Was he not? He'd have to watch it again. The net shook. That's all he can see in his mind's eye.
On Sunday, Aberdeen will try to win the League Cup for the second time under manager Derek McInnes. Unlike last time, they're underdogs. Just the same as last time, they're bringing big numbers. They'll travel in hope, if not expectation. Celtic are on an incredible domestic run, but Aberdeen have the guns to hurt them if the stars are aligned in their favour.
Rooney is 28, has scored five goals in 12 games against Celtic and has buckets more that the Dons supporters can tell you all about. In his first full season at Pittodrie, 2014-15, his winners and equalisers counted for 21 Premiership points. In his second season, that number rose to 23.
He's from south Dublin but of all the places he has been since leaving there to join Stoke when he was 17, Aberdeen has felt most like home. He's been around; Yeovil, Chesterfield, Bury. Testing days, those. Made him appreciate what he found later on when he first moved to Scotland in 2008 as a Caley Thistle player.
"I'd never been to Scotland," he says. "I'd no idea where Inverness was. I knew Loch Ness, but that was about it. Tony Pulis was my manager at Stoke and he called me one day and said Inverness have been on. He was honest. 'You're not going to play here. No point in hanging around'. I appreciated the straight-talking."
Craig Brewster was his manager in the beginning, but then Hurricane Terry blew into town. Terry Butcher didn't much fancy Rooney to begin with, but when the club got relegated it sparked something in the relationship. Rooney scored a hat-trick against Morton and, finally, his career achieved lift-off.
He recalls: "We had the Irish strikeforce; myself, Richie Foran and Jonny Hayes. When we were going well we'd tell the other lads, 'It's the Irish that's carrying you boys'. Terry loved all that. He was an absolute headcase, but great craic and fantastic for me.
"Maurice (Malpas, Butcher's side-kick at Inverness) would come in to training and say, 'Lads, he's like Mount Vesuvius. I'm telling you, don't give him anything to erupt at. He's on the edge as it is'. They were a brilliant double-act. After a bad performance, Terry would say, 'I'm not going to lose my temper', but you'd watch him and he'd remember something terrible in the match and his voice would get louder and louder.
"We'd see it coming. If there was anything lying on the floor that he could pick up and throw at us we'd kick it under the bench. He smashed a marker off the ground once and all the ink went all over Jonny's face. The ink was running down his nose and he wouldn't put his hand up to wipe it. He just sat there, dripping."
Rooney's goals helped Inverness back into the top division and then helped keep them there. His working relationship with Butcher was excellent, so much so that he was tempted to join him at Hibs when the offer came.
When he made his move from Inverness it was to Birmingham in August 2011. He played in fits and starts. Birmingham got in the play-offs for the Premiership but it didn't work out, for the club or for Rooney. They sent him on loan to Swindon.
"Paolo Di Canio was my manager at Swindon," says Rooney. "Honestly, I could speak for hours about him. We were riding high in League One and his attention to detail was ridiculous. He would talk for ages about the technique of jumping for a header.
"If you imagine Di Canio the flair player, then he was completely different as a manager. If you tried a trick or a flick and it didn't work he'd want to kill you. Every single day was about shape, shape, shape. He walked us through it, like robots.
"We had a few good players, like Matt Ritchie. You could see in training that Matt could smash a ball. He always had a bit about him. Di Canio had soft spot for him, but he'd lose the head with him as well, probably because he knew what he was capable of.
"Matt was putting in crosses one day and Paolo didn't like where they were ending up. 'Everybody stop!' He goes over and pings in three crosses himself, dead-perfect. Then he turns to Matt and says, 'See, I'm God. You must listen to God'.
"He went in goal afterwards and started diving about the place showing our goalkeeper how to save shots and get up again in the quickest time. I looked over at our goalkeeping coach and he just shrugged his shoulders. Everything was intense."
It was in January of 2014 that Rooney made the move to Aberdeen. He was treading water at Oldham at the time. The call came from Pittodrie and immediately he recalled his conversations with Hayes, his old mate from Dublin and Inverness.
"I spoke to Jonny after he joined Aberdeen and he was going on about the size of the club and how different it was from Inverness," he explained. "He was talking about how everyone in the city is a fan and how you get stopped for autographs all the time and how, at Inverness, you wouldn't be asked for an autograph after a game not to mind on the street during the week.
"He was saying, 'I'm telling you, it's great. The manager, the staff, the fans, the city. You'll never see a Celtic or a Rangers jersey here. It's all red'. You wouldn't know with Jonny, he's a bit of a spoofer. But he was right. I didn't have any doubts, to be honest. I was close to signing for Derek at St Johnstone once and I had really good memories of him."
Motherwell away was his debut. He reckons about 1,500 Aberdeen fans made the trip - and he scored. The following week it was the League Cup semi-final against St Johnstone. About 14,000 Dons that day - and he scored again. He scored in six of his first eight games and then came the Cup final and the winning penalty. For a footballer, dream beginnings don't come much dreamier than that.
"We want to win more and there's a frustration that we haven't backed up that trophy with another. We're desperate for it. As much as finishing second in the league is very good, you're judged on your trophies.
"I'm blown away by our support, especially lately, with the way the economy has gone. Everybody you speak to knows somebody who works in the oil industry, but we have more fans at some of our away games than the team we're playing against. You'd like to think that the club is maybe giving some lads a bit of a lift in what are tough ol' times."
He adds: "You'll always remember the players you won something with. Our last final was a brutal 0-0, let's be honest, but it didn't matter. We'll have those memories for ever. You want more, though. You always want more."