Swansea say announcement of Dineen return was 'admin error'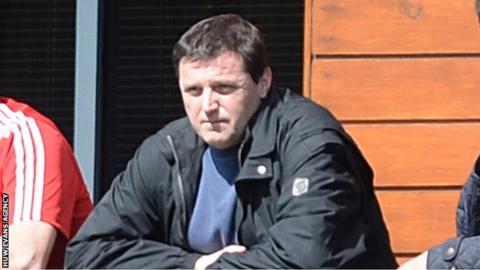 Swansea City say an "administrative error," is to blame for the club announcing the proposed return to the board of Leigh Dineen.
Dineen, Swansea's vice chairman, left the board in July after the American takeover of the club.
Companies House records showed Dineen had been restored to the board with documents being filed on November 15.
Swansea's Supporters' Trust, which owns a 21% stake in the club, say Dineen was reappointed without their knowledge.
Dineen, also the club's commercial manager, will now have his proposed return discussed at a board meeting in December.
A Swansea City spokesperson confirmed to BBC Wales Sport that "the paperwork was filed prematurely and duly removed once it came to the club's attention".
"After discussions overnight between the Supporters Trust and the new majority owners, it was identified that the appointment was made without approval and has now been removed," the Trust said in a statement.
"It has been agreed that the issue of Dineen's position at the club would be discussed at next month's board meeting, which our supporters' director will be attending."
Analysis
BBC Wales football correspondent Rob Phillips:
"What on earth has happened to the Swansea way?
"Their slump to the bottom of the Premier League table with manager Bob Bradley still looking for a first win is just one aspect of the story.
"The confusion over Leigh Dineen's status is symptomatic of a deeper problem which can only undermine efforts to preserve top flight status.
"The Swansea City Supporters Trust mistrust of the American investors is palpable. Fans will forgive if not forget discontent with the way a club is run, providing the team is doing fine. Swansea are not.
"The poisonous atmosphere in the Liberty Stadium at the recent home defeat by Manchester United bears witness to the fact the disconnect between a significant group of supporters and those running the club has made the struggle on the pitch even more difficult.
With the jury still out on Bradley, the new owners' moment of truth will be the January transfer window. Many will reserve judgement until they see how the Americans fund the clearly necessary squad strengthening.
"But unless Swansea, rightly hailed as a 'model club' during their rise to the top flight, rediscover their sure unity - then decline will be inevitable."
Subscribe to the BBC Sport newsletter to get our pick of news, features and video sent to your inbox.