Cardiff City: Vincent Tan converts £8m of debt into equity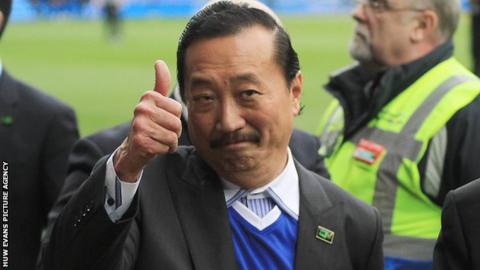 Cardiff City owner Vincent Tan has converted a further £8m the club owes him into equity.
The Championship club is about £100m in debt, and Tan said in February it would be debt free by 2021.
More than 50 million ordinary shares at 15.69p each will convert £8m of his loan into equity, in line with his pledge to cut the club's debt annually.
The move will ensure the Malaysian businessman will be able to reduce the debt by £100m in the next few years.
Cardiff City had £174m worth of debt at the end of the 2013-14 financial year, with most of it owed to Tan.
"Action is being taken systematically, in stages," said Ken Choo, the club's chief executive and executive director.
"The process will take time and it is not something which can be completed with a flick of a switch.
"Reducing debt will be completed as soon as practically possible."
Choo said the club must adhere to Malaysian regulatory controls during the process of clearing the debt.