Emyr Huws: Neil Warnock hints at January loan for Wales midfielder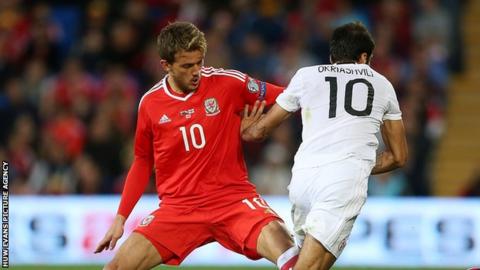 Cardiff City manager Neil Warnock has hinted Wales midfielder Emyr Huws could be offered out on loan in January.
The 23-year-old is not featuring for the Bluebirds, though Warnock said he was "not bombed out at all."
He explained on BBC Radio Wales that the good form of Arun Gunnarsson and Joe Ralls was the main reason Huws was not making the matchday squad.
"As it comes to January I suppose I will have to have a chat to find what he feels like," added Warnock.
"A lot will depend on what he wants.
"I'm quite happy to have him in the squad and he knows he's not bombed out at all he's training very well, but I do like to have that extra forward on the bench.
"He's been unlucky in some respects in the fact I've been delighted with the midfield.
"I think Gunnarson and Ralls have complemented each other, but I know he's itching to get a game.
"But it's difficult really to change what I think has been going very very well."
Huws has played 10 times for Wales, but missed out on the Euro 2016 finals when Chris Coleman's team reached the semi-final.
He joined Cardiff from Wigan Athletic in August 2016, but has made only three appearances this season - and none under Warnock who was appointed manager on 5 October.
Huws has played in three of Wales' four World Cup 2018 qualifying matches.
"I like to help players as well as just look after my first team squad," said Warnock.
"I realise when you're not in the team it's not very good for you."
Cardiff City are one place above the Championship relegation zone following their 3-2 win over Huddersfield.