Hearts: Profits will go to stand, not the team, says Robbie Neilson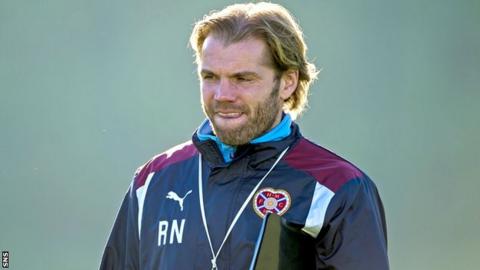 Robbie Neilson has welcomed the news Hearts are officially debt-free but does not expect to be able to spend extra funds on his team.
Hearts have wiped out their £1.6m debts and recorded profits of £623,000 for the year ending in June.
"I don't expect the money to come into the first team," said the head coach.
"But, once the new Tynecastle stand is built and we have more season tickets, we can start looking at progressing the playing side from there."
The Tynecastle outfit released their annual results on Thursday and now have more than £2.6m in the bank.
The annual profits, combined with the reclassification of £4m of loans from the Foundation of Hearts supporters group as reserves rather than liabilities, have ensured the financial picture is looking as bright as it has since the club emerged from administration two-and-a-half years ago.
This year's financial results have been boosted by turnover figures climbing by £2.9m to £9.9m following their promotion back to the top flight.
Meanwhile, work has started on demolishing the old Tynecastle office buildings in advance of construction beginning on the new 7,300-seater main stand.
Neilson paid tribute to the efforts of Hearts owner Ann Budge, and the club's supporters, and remains confident a bright future awaits the Edinburgh club.
"We have a budget and we're building a new stand," said Neilson. "The most important thing for the club right now is that it is stable.
"It's great to see we're on the right track. Ann has made the club stable and strong. The Foundation of Hearts and everyone else is working hard to get this club back where it belongs.
"It's really pleasing to be in such a strong financial position, but we've still got a long way to go.
"A few years ago, this club was in dire straights. But, with a great business plan and the foundation backing us to the hilt, the fans putting their money in to support us, we're turning things around.
"But there is still a lot of hard work to be done. We've got to get the stadium redeveloped."
And Neilson, whose side sit fourth in the Scottish Premiership, thinks Hearts can be a shining beacon for other clubs looking to get their house in order.
"There are more and more clubs following the model we've taken and I think it's the way forward," he said. "Gone are the days when you could spend x, y and z on players.
"It has to be sustainable. You have to get the fans tight in with the club as it was back in the 70s and 80s."