Crystal Palace to support families of Croydon tram crash victims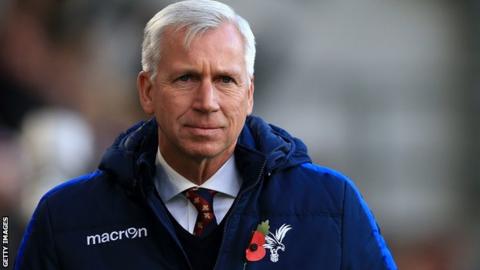 Crystal Palace will support those affected by the Croydon tram crash "in any way we can", says boss Alan Pardew.
Seven people were killed when a tram derailed in south London on Wednesday, 9 November with 51 taken to hospital, eight of who were said to be suffering "serious or life-threatening" injuries.
Pardew said some of the victims' families would be at Palace's home game against Manchester City on Saturday.
"The terrible events in Croydon had a massive impact on us," he added.
Some Palace supporters were among those who lost their lives and Pardew said the club had contributed to a fund to help the victims of the incident and their families.
"We as a club made a contribution to the fund, of course," the 55-year-old said.
"We also lost a fan to a train accident a couple of weeks before. Just awful. As a club we have to show we are with them and do all we can."
The family of 19-year-old Dane Chinnery, who died in the crash, have asked Palace fans at the game against Manchester City on Saturday to join them in a minute's applause.
The club have also announced they will be holding a minute's silence prior to the game.
Pardew said: "It is such a difficult thing. How can we get across the emotion they are feeling, it is such a personal thing.
"We as a club are fully behind them and want to help them as best we can. We have an important role to help the fans."