Jamie Richards: Truro City boss Lee Hodges pleased with defender's development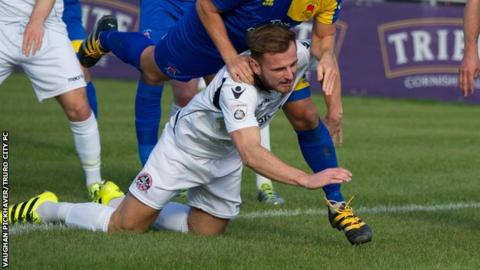 Truro City boss Lee Hodges says he is pleased with the development of centre-back Jamie Richards.
The 22-year-old former Torquay United and Plymouth Argyle defender joined the White Tigers in the summer of 2015.
"Jamie's been very consistent in his play this season," Hodges told BBC Radio Cornwall.
"He's done ever so well, he'll talk on the pitch and is becoming a bit of a leader on and off the pitch for someone who's so young."
Richards scored his first goal of the season in a 2-0 win over Margate, having finally got his wish to be used in attacking corners.
"He has been moaning to me about going up front for set pieces and I actually crumbled in the end and allowed him to go up," added Hodges.
"We changed it with different personnel and he's gone up and scored a goal.
"As a manager you say 'go and prove me wrong' and he did, which was great for everybody."