Gordon Strachan and Scottish FA 'retain belief' in World Cup qualification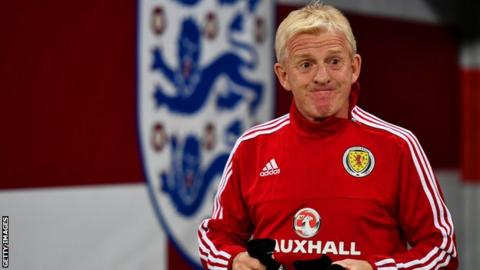 Belief in Gordon Strachan rather than financial considerations led the Scottish FA to retain him as head coach, says board member Mike Mulraney.
The eight-strong board backed Strachan on Thursday after reviewing a poor start to the World Cup campaign.
Asked if it was because a sacking would cost too much in compensation, Mulraney told BBC Scotland: "Absolutely not.
"We've got a man who is doing his best, and he's giving everything to a job, who we've got confidence in."
The review followed last Friday's 3-0 defeat by England at Wembley - a result that leaves Scotland in fifth place in qualifying Group F.
"Do I think we can qualify? Yeah, I think we can qualify," said Mulraney.
"When Gordon's got us doing well, and in the past he has, we've shown performances that could get us there.
"He's said he's convinced that he can advance our position, get us into a play-off place."
Mulraney, chairman of Alloa Athletic, stressed that he would have no fear in sacking a manager and had done so in the past with the Scottish League One club.
"In my time as a chairman of a football club, I've had managers who've went through horrific periods and I've backed them and they've come good," he said.
"If I thought Gordon didn't believe he could do it then I would probably take a different view, but Gordon's convinced he can do it."
Mulraney disagreed with those who say Scotland do not have the quality of players capable of reaching the 2018 finals in Russia.
"I think we've got some outstanding players," he said.
"We've got a good squad and you look at other squads that could qualify and I think we're the match for them and we're better than many and they're qualifying."
Hibernian manager Neil Lennon, who played under Strachan at Celtic, was pleased with the SFA decision.
"I look at my own country, Northern Ireland," he said. "Before the previous campaign, Michael O'Neill only won one game out of 19 and, in that, they were losing to Luxembourg.
"They stayed with him, they were patient and now Northern Ireland have qualified, made the last 16 of the Euros and are going well again.
"I think, in the modern day, we chop and change managers far too much. How are you going to build anything?"
Former Scotland manager Craig Brown still believes Strachan can lead his side to the finals.
"When there are points up there to be played for, I think the psyche up here in Scotland is that we're battlers and I am quite sure the players will battle, the fans will support Gordon in the next few games and we have some home fixtures, which are very winnable," he said.
"And, if we do that, I think we could cause a shock by getting to second place in the group."