Espen Nystuen at Kongsvinger: The player who can hire and fire managers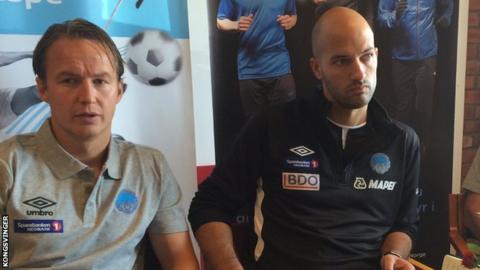 We have all heard about player power at certain clubs, where influential players expect a say in whether the manager stays or goes, or who replaces him.
Well, Norwegian club Kongsvinger have taken it to another level.
Veteran centre-back Espen Nystuen, 34, literally did pick the club's manager and has the power to sack him whenever he wants.
In 2013, he returned to his hometown club - but not in a standard role. Nystuen, who had been playing for Lillestrom in the top flight, arrived as the club's managing director - and is a regular at the heart of their defence.
And it is obviously working. Since recruiting little-known Portuguese manager Luis Berkemeier Pimenta, who has a degree from Liverpool John Moores University, in 2014, the club have won promotion from the third tier and are in the play-offs this season bidding to return to the top flight.
But before that, they face the biggest game in their history.
On Sunday, the second-tier side play in their first Norwegian Cup final - against the country's most successful team, Rosenborg.
"I have quite a special role in Kongsvinger," Nystuen told the BBC World Football Show. "Luis is my boss on the pitch - and off the pitch, I'm the one taking the decisions.
"I'm definitely on my way down as a player. When I'm out on the pitch, I act like I've always done, no matter what coach I have had. It's of course him who makes the decisions. In the office, we have managed to create a good atmosphere. For me, in the role as director, it's much more calm. On the pitch it's more feelings, emotions."
Despite their success, the pair do have their disagreements over team selection - although the dispute is not over whether Nystuen, who can be as confident as a player can be of starting a cup final, plays.
When Nystuen was asked what happens if Pimenta drops him, he joked: "Then he's finished right away. He wouldn't dare do that."
Nystuen wants more youngsters in the first team. "The first-team coach of course has to think about what's best for the first team, while my role I also care about what happens to the second and junior teams.
"We don't agree all the time about giving those youngsters their best match level and development. Not only doing what's best for the next match but also thinking one and two years ahead. But it has worked quite well even though we have had our fair amount of discussions."
Could Kongsvinger write the greatest chapter in their 124-year history this weekend?
Nystuen, who wears the number 10 shirt, is a realist. "They are probably the biggest favourites who have ever been in the cup final in Norway," he said.
"They have a far better side than us but we have created a good atmosphere. If we are going to beat Rosenborg, which of course will be difficult, that is our biggest strength - we run more than them and work harder for each other than they do. If we manage to do it, it has to be in that way."
Listen to BBC World Service's World Football Show in full here.