Celtic AGM: Peter Lawwell predicts major changes in European football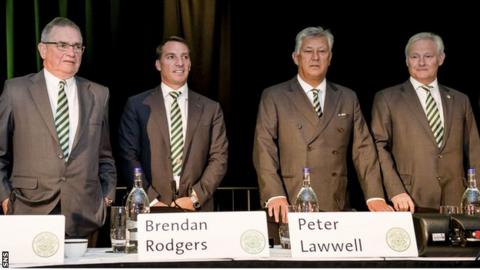 Celtic chief executive Peter Lawwell expects European football to change in the next decade, with cross-border competitions a possibility.
Lawwell says an evolution of competitions is inevitable, with the Champions League giving four places to Europe's top four leagues from 2018.
He insists, though, that Celtic are in a position to influence the change to try to protect their interests.
"We're in a good seat to be an influence," he explained.
"There will be change, whether that's to the Champions League, a European League, an expanded European League, an Atlantic League.
"There's a lot of frustration and dissatisfaction at European level pointing to some form of elite competition, and clubs from the second tier who want to be part of that.
"There were changes in the Champions League format which have been favourable to the elite, but we maintained the champions route.
"There is nothing definitive, but there is a movement towards change at the top, middle and bottom tiers of European football.
"Where there's dissatisfaction, you'd think that would lead to change."
January signings
Lawwell was speaking at the Celtic plc annual general meeting, where the Premiership leaders' manager, Brendan Rodgers, was widely praised.
Having previously indicated he would be content not to make any signings in January, Rodgers expressed a view it would be preferable to strengthen the squad to allow new arrivals time to adapt to the club ahead of summer commitments.
"Where I came from [the English Premier League], if you could improve your squad [in January], then great, but it wasn't necessary if the right players weren't available," Rodgers said in response to a question from the floor at Celtic Park.
"Having experienced the Champions League qualifiers, the January window is important. It will allow players to bed in and become fully attuned to our ideas ahead of the qualifiers.
"We don't need numbers, but we need a certain profile of player to really compete at Champions League level, which is a few steps up from the level we're playing at.
"I was very aware of the squad when I came here. It's a little bit bigger than I would want to work with.
"It takes time to cut down, but all the players understand where they stand. If they want game time, those guys who haven't moved on will need to look at January and the end of the season.
"I will always respect them, though. I'm not a coach to put them into a corner to rot. It's something we will work on in the coming windows."
Commitment to fans and Celtic Women
All 12 of the resolutions put to shareholders were passed - including the re-election of all board members and the proposal by the Celtic Trust to establish a formal supporters forum, to enhance communication between the club and fans' representatives.
Chairman Ian Bankier also revealed the club would meet with representatives of shareholders who complained to the Scottish Football Association and Uefa about Rangers being granted a licence in season 2011-12 to play in Europe.
"This came from the AGM in 2013, relating to SFA licensing procedures," Bankier said. "The shareholders, having taken further legal advice, continue to have concerns.
"The club is meeting next week with shareholder representatives to understand their concerns."
Once formal business was complete, questions were invited from the floor. Among them was one shareholder urging supporters group the Green Brigade to "curb the element [of their behaviour] that is not acceptable".
In his response, Lawwell said: "On the very few occasions when we experience unacceptable behaviour, it is often blamed on the Green Brigade when they are not involved. It's up to supporters and the club to positively protect and respect Celtic supporters' reputation. On the few occasions when it lets us down, eliminate it."
Lawwell also insisted Celtic will "invest more" in Celtic Women to help them better compete with the country's leading two Scottish Women's Premier League sides, Glasgow City and Hibernian Ladies.
"Hopefully, before long we will be number one in Scotland," said Lawwell.
And Rodgers added Celtic Women manager David Haley was being supported by the men's coaching set-up.
"We're helping and educating him, and we're very inclusive," said Rodgers.