Price of Football 2016: How much is the National League?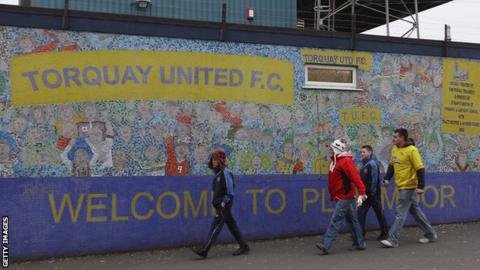 Which National League club has an £85 season ticket? Who charges £400 for a season ticket?
The BBC's Price of Football study has analysed data from 223 clubs across Britain and Europe to find out how much it costs supporters to follow their team.
What's happened to ticket prices in the National League?
It is cheaper to buy a season ticket in the National League than it was last season.
The average cost of the cheapest season ticket across all 24 clubs has dropped 7% from £255.13 to £236.64 and is £10 cheaper than it was in the 2014-15 season.
And the average price of the most expensive season ticket in the league has also fallen year-on-year from £326.67 to £318.98.
Matchday tickets have remained almost the same price, with the average cheapest ticket costing £15.73 and the average most expensive ticket coming in at £17.46.
Away tickets have crept up slightly, though, with the average cheapest away ticket up to £15.75 from £15.10 and the most expensive up to £17.04 from £16.42.
Who are the cheapest? Who are the most expensive?
Sutton United have the cheapest season ticket throughout the top five leagues in England, offering an early renewal price of £85
The cheapest matchday ticket is at Macclesfield where you can buy admission for £13
But the Silkmen have the most expensive season ticket in the league at £400
Tranmere's cheapest matchday ticket is £19 - the most expensive in the category
They are one of four clubs to have increased the price of their cheapest matchday ticket - along with Boreham Wood, Forest Green and Wrexham
Three clubs reduced the cost of their cheapest season ticket - Aldershot, Braintree and Torquay
What about pies, programmes, tea and shirts?
Braintree have the league's cheapest pie at £2
Forest Green, Maidstone and Tranmere have the most expensive pie at £3.50
Tea will cost you a league-low of £1 at Barrow, Braintree, North Ferriby, Chester, Guiseley and Solihull
Most clubs charge £3 for a programme, but North Ferriby and Gateshead are the cheapest at £2
The cheapest junior shirt is at Braintree for £20 and the cheapest adult shirt is at North Ferriby for £29.99
Stand-out deals in the National League
Braintree gave away free season tickets to all under-18s
Dover, Aldershot and Southport offer free entry to under-11s
Eastleigh made one game in October free of charge for all fans
Under-fives get in for free at Chester