Price of Football 2016: How much is League Two?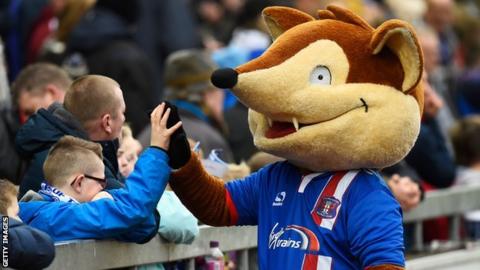 Which League Two club has reduced all its ticket prices for this season?
Whose replica shirt costs more than Premier League club Middlesbrough's?
The BBC's Price of Football study has analysed data from 223 clubs across Britain and Europe to find out how much it costs supporters to follow their team.
Three quarters of tickets in League Two have been frozen or reduced this season.
The average price of the cheapest matchday ticket is £18.70 while the average price of the most expensive is £22.87.
For season tickets, the average price in the cheapest category is £273.80 - up 5% on last year - and the average price of the most expensive season ticket has dropped by £5 to £385.03.
How cheap is your club?
Colchester have reduced their prices across all ticket categories following their relegation, but still have the most expensive matchday ticket on offer at £29.
Wycombe offer the cheapest matchday ticket at £15, while Blackpool, Cambridge, Crewe, Doncaster, Newport and Stevenage have reduced their prices in this category.
Leyton Orient have put their prices up, but their £190 season ticket is still the cheapest in the league.
Morecambe's £519 season ticket is the most expensive in the league. Most fans opt to buy at the early-bird price of £219.
Wycombe offer the cheapest day out for £22.90. A day out is a matchday ticket, pie, tea and programme.
Where will you find the cheapest pie, tea, programme and shirt?
The lowest price you will pay for a pie in League Two is £2.50 - at Accrington, Blackpool, Leyton Orient and Stevenage. Morecambe's (award winning) pie is the most expensive at £3.50.
The cheapest cup of tea is £1 and can be found at Accrington, Colchester, Portsmouth and Stevenage. The most expensive, at £2.10, is sold at Doncaster.
All programme prices have stayed the same as last year, apart from Blackpool's which has been reduced to £2 (from £3) and is the joint cheapest along with Carlisle. Newport's is the most expensive at £3.50.
Crawley offer the cheapest shirts, pricing a junior one at £25 and adult at £35.
Barnet's shirts are the most expensive, costing £41.59 for a junior size and £49.90 for an adult.
League Two deals to shout about
Stevenage give away free stickers in their matchday programme. There are 32 for fans to collect throughout the season including current players, club legends, management and club mascot. They all go on a wallchart provided by the club
Carlisle offer membership schemes specifically aimed at service workers, shift workers and fans with irregular work patterns
Portsmouth issue 10,000 free tickets every season to the local community