Price of Football 2016: Premier League season ticket prices rolled back
Last updated on .From the section Football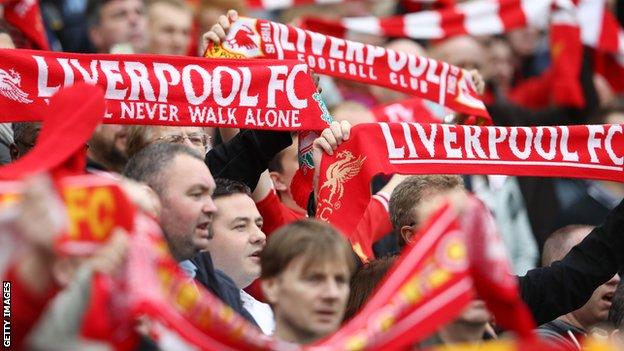 The cost of the Premier League's cheapest season tickets have dropped below 2013 prices, the BBC's Price of Football study has found.
The average cost of the cheapest top-flight adult season ticket is £479.89, almost £20 lower than it was three years ago.
This year, 14 of the Premier League's 20 clubs froze their cheapest season ticket prices, while five cut them.
The average cost of the most expensive season ticket remained the same.
Cheapest matchday tickets dropped by more than 6% to an average of £29.05, while the most expensive matchday ticket fell by around 5% to £53.65.
This is the first season that Premier League clubs are benefitting from a record £5.316bn TV rights deal.
So it's now cheaper to watch Premier League football?
The BBC's 2016 Price of Football study was able to compare 112 different ticket prices across the Premier League to last season's, including the cheapest and most expensive in three categories: matchday, season ticket and away ticket.
Of the 112, only 16 had increased in price, while 59 (53%) remained the same and 37 (33%) were reduced.
So on the whole, most people will be paying the same prices as last season to watch Premier League football.
Promoted sides Burnley and Middlesbrough were the only clubs to increase their cheapest and most expensive matchday tickets, while champions Leicester City's cheapest matchday ticket rose from £22 to £26.

Who are the cheapest and most expensive?
Hull City and Liverpool

offer £9 tickets to watch Premier League football this season, the cheapest available in the top five tiers of English football.

Hull also have the league's cheapest season ticket at £252, while there are also season tickets below £300 at

Manchester City

(£299),

Stoke

(£294) and

West Ham

(£289).

Arsenal's

highest-priced season ticket of £2,013 and highest matchday ticket of £97 remain the most expensive in the UK.

The £97 ticket category has not been on general sale at the Emirates this season because of demand from season ticket holders and members - and the Gunners say they will have held prices for nine of 12 years up to 2018. Their season tickets also include the first seven home matches in cup competitions.

Chelsea's

cheapest matchday ticket of £52 is the highest in the category across the whole of the UK.
Whatever happened to capping away tickets at £30?
Premier League clubs agreed to cap away tickets at £30 this season, after pressure from the Football Supporters' Federation to reduce away ticket prices to £20.
That has led to the average price of the most expensive away ticket in the league dropping 37% from £46.44 last season to £29.44 - more than £2 cheaper than the same category in the Championship (£31.57).
Southampton have gone one step further, linking up with a commercial partner to offer £20 tickets to fans visiting St Mary's, while Swansea have subsidised the cost of away tickets for their own fans, meaning their travelling supporters pay only £20.
But six clubs have raised the price of their cheapest away ticket, with West Brom's now at £25 (from £10) and Arsenal (£26), Burnley (£24), Hull (£24), Leicester (£22) and West Ham's (£25) all now £30.
The most expensive away ticket at Arsenal last season was £64 - so that has more than halved this term.
What about a shirt, pie and tea?

While ticket prices have generally gone down, there are increases in the other expenses of being a Premier League football fan.
Ten clubs increased the price of their junior shirts, with the overall average rising from £38.42 to £39.33.
And the price of six adult Premier League shirts went up, but the average cost remained just below £50.
The average cost of a pie rose to £3.49 from £3.35, but tea dropped from £2.09 to £2.07 and programmes are 7p cheaper than last season at £3.35.
The cheapest day out in the Premier League - a ticket, pie, tea and programme - can be found for £17.20 at Hull City.
Premier League deals to shout about
Arsenal

subsidise tickets for their own away fans by £4

Under-eights are given free entry at

Bournemouth

with a £7.50 membership

Burnley

offer free season tickets to under-10s with a full-paying adult in the Family Stand

Everton

offer £95 season tickets to under-11s

Stoke City

offer free season tickets to City7 (seven-year-old) members when bought with an adult

Sunderland

offer child season tickets for £25

Watford

offer under-16s season tickets for £30 and discounted season tickets to fans who live more than 75 miles away from the stadium