Tim Sherwood: Swindon's Luke Williams keen to learn from director of football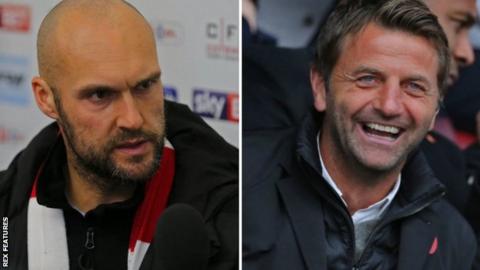 Head coach Luke Williams says he wants to learn from Tim Sherwood and is happy to share responsibilities with Swindon Town's new director of football.
Williams led the League One side prior to Sherwood's appointment on Thursday.
Chairman Lee Power said Sherwood's arrival was "not a demotion" for Williams, who signed a five-year contract in March.
"There is no time for babies, egos or people feeling too proud," Williams, 35, told BBC Points West.
"I don't have a problem with the situation. We're all very secure men, we're not easily offended. We recognise it is a team approach.
"I'm going to use this opportunity to try to learn and strengthen myself.
"It's a huge compliment to me that somebody of this level would come in and still feel the value of having me at the football club.
"Now I'm being able to work with somebody who has won the Premier League, managed Tottenham and Aston Villa - there aren't many bigger names to learn from."
Sherwood led the pre-match team-talk and then watched from the stands as Swindon beat Charlton 3-0 at home on Saturday.
That win, only Swindon's third in 13 league games, lifted the Robins out of the relegation zone.