Gordon Strachan should stay Scotland boss - Kris Boyd & Paul Dickov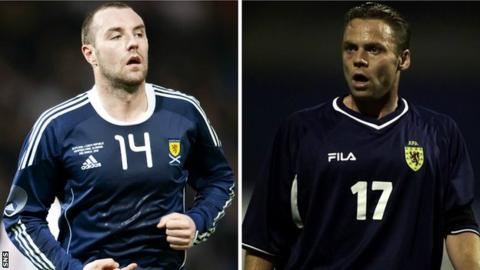 Gordon Strachan should stay as Scotland head coach, according to two former Scotland strikers.
Kris Boyd says there's "no better" option than Strachan, while Paul Dickov argues that it is clear the manager has the backing of his players.
Strachan is considering his future before a debrief with the Scottish FA after a 3-0 loss to England left the Scots in fifth place in Group F.
"He is hurting, there is no doubt about it, same as everybody else," said Boyd.
"Is there anybody better out there? No, I don't think there is."
Friday's defeat at Wembley was Scotland's second in their opening four qualifiers. They are six points behind leaders England and four off Slovenia in second place, a position that could earn a play-off spot.
Kilmarnock striker Boyd, who won 18 Scotland caps between 2006 and 2010, believes the current squad are happy working under Strachan, despite recent results.
"You can always tell - the players turn up for an international gathering with a smile on their faces, they want to be there," he told BBC 5 Live.
"I have not spoken to one player who has a bad word to say about Gordon or his training. Everyone loves going to be a part of the Scotland set-up."
Dickov, who won 10 Scotland caps between 2000 and 2004, said that the players' application and attitude at Wembley showed they are still behind Strachan.
"There were plenty of signs in the England game that the players wanted to play for him," Dickov told BBC Scotland.
"As an ex-player and being in management, you look at the reaction of players and you can tell if players want to play for a manager or not when the going gets tough.
"The performance, certainly up until England scored their second goal, showed me that the players are right behind Gordon and his team.
"Gordon's passionate about his football and managing the national team and I do think he's the right man to take them forward, purely because of the reaction he got from the players at Wembley."
'There is an opportunity round the corner'
Despite their receding hopes of qualification, Boyd believes the campaign is far from over given Scotland have four of their remaining six games at home.
"We went to Wembley with a game plan and, apart from silly mistakes, we could have come away with something," he said.
"I know that sounds stupid after a 3-0 defeat, but the fine margins that win and lose games happened with Scotland.
Scotland's remaining World Cup qualifiers (all 2017)
26 Mar: Slovenia (H)
4 Sep: Malta (H)
10 Jun: England (H)
5 Oct: Slovakia (H)
01 Sep: Lithuania (A)
8 Oct: Slovenia (A)
"I just think there is an opportunity round the corner. Four of the next six qualifying games are at home, which is massive. We have got quite a decent record at home.
"We know the results have not been good enough, but we have been to Wembley now, it is out of the way.
"We have got home games against Slovenia, Malta and Slovakia. We have Slovenia home and away and, if we got four points from those games, we are back in the group because we are only four points behind and the rest of the teams still have to play England as well.
"With six games left and four of them at home, I don't think the campaign is finished.
"I think it is finished to win the group, but I don't think it is finished to be runners-up."
'The players have got to be accountable'
Former Scotland midfielder Graeme Souness told the BBC he felt Strachan was getting the best from a "modest" pool of players.
Dickov, though, believes there is quality in the Scotland squad and says the players must share the responsibility for the disappointing qualifying results.
"As much as I want Gordon to stay in the job, I do think Scotland have got good players," said Dickov.
"You look through the squad, people are saying, how can Northern Ireland, the Republic of Ireland and Wales do it and we can't?
"But I think players have got to be accountable as well. The third goal against England was conceded from a set-piece - players will have run through it in training - and Gordon gets the stick for it. I think the players have got to take a bit of criticism for that as well.
"I think he has the appetite to see it through and I think, if he had any thoughts of leaving the job, he would've done it by now.
"I think he should stay at least 'til the end of the campaign. He's bringing through players all the time, there are players in the squad that know how Gordon wants to play.
"For continuity at the minute, I don't see any real reason why we should change."