Carl Baker: Portsmouth midfielder asks for patience after Fratton Park boos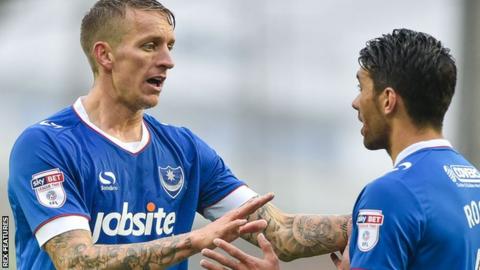 Portsmouth midfielder Carl Baker has urged supporters to be patient after boos were heard at Fratton Park during Saturday's win against Mansfield.
Pompey won 4-0 with Baker scoring twice, but took their time to secure victory against nine-man Mansfield.
"Our sideways and backwards passing was getting criticism, but it was part of the plan," Baker told BBC Radio Solent.
"We believed in ourselves that we'd tire them out and the gaps eventually opened up for us to take advantage."
Three goals were scored by Paul Cook's side in the closing 10 minutes, but they were preceded by some in the crowd voicing their disapproval.
"That's just Fratton Park," Baker added. "The crowds are the best I've played in front of and they want to see good football that's attack, attack, attack and goals scored.
"We want to do that too, but it's not always the right thing to do.
"If we have to keep possession and come away with a 1-0 win and three points, I'm happy doing that. The game lasts for 90 minutes. We have to be more wise and more clever."