BBC Sport - BBC African Footballer of the Year 2016: Andre Ayew profile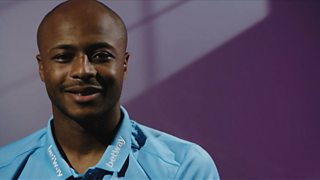 Ayew on Empire, cologne and winning the World Cup
BBC African Footballer of the Year nominee Andre Ayew divulges his favourite TV show, his best friends are on the Ghana team and his best moment playing for his country.
Ayew joins Pierre-Emerick Aubameyang, Riyad Mahrez, Sadio Mane and Yaya Toure in the five-man shortlist for the BBC award.
The winner will be revealed on Monday, 12 December.