BBC Sport - Player profile: AFTOY nominee Liverpool's Sadio Mane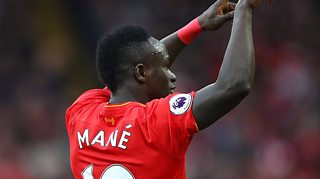 Player profile: AFTOY nominee Sadio Mane
Liverpool's Senegalese winger Sadio Mane is hoping to win the coveted BBC African Footballer of the Year award for the first time after a successful 2016.
Mane joins Pierre-Emerick Aubameyang, Andre Ayew, Riyad Mahrez and Yaya Toure in the five-man shortlist for the BBC award.
The winner will be decided by fans from across the world, who have until 18:00 GMT on 28 November to vote for their choice.
Make your vote and watch profiles of all five nominees here.