Checkatrade Trophy: Plymouth Argyle boss enquires about fines for weakened sides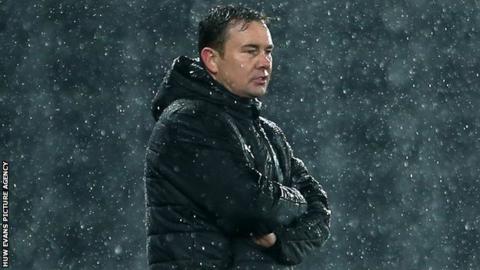 Plymouth boss Derek Adams says it will be interesting to see if clubs playing weaker EFL Trophy sides are fined.
EFL teams must feature either five players who either played in the last or will the play the next game, or the five that have played most often.
Sides that fail to do so are liable to a fine of £5,000 by the EFL.
"Some teams have changed 11 players on a Tuesday night and have been able to field a different team on a Saturday," Adams told BBC Radio Devon.
"I'll be interested to see how that works out if a fines system comes into play because there's £10,000 per game at stake and some teams have changed 11 players and some teams have abided by the rules."
The EFL Trophy has been re-vamped this season, with a group stage featuring under-21 sides from Premier League and Championship clubs.
But the tournament has not been well received by fans, with a number of clubs recording record low attendances for matches.
Plymouth went out of the competition on Tuesday with a 2-0 defeat against Swansea's development side - a game watched by just 641 fans in south Wales.
"It's giving the youngsters in the Premier League sides, who are the elite players in this country an opportunity to play against men's teams competitively in stadiums and it's only three games in a season," Adams added.
"Is it beneficial for a League Two side? It's probably not, but I can see why they're using this system to try and get better English talent."