Dave Whelan: Wigan Athletic president to be honoured with bronze statue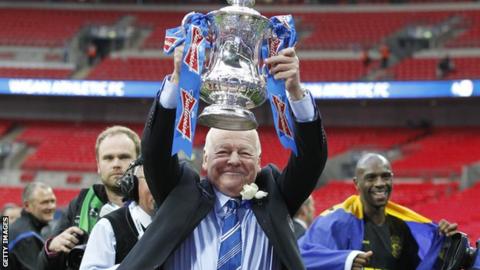 Championship side Wigan Athletic have announced they will build a statue at DW Stadium to commemorate president David Whelan's 80th birthday.
The bronze statue will be of Whelan holding the FA Cup which the Latics won in 2013 by beating Manchester City.
It will be unveiled at a free event on his birthday - Thursday, 24 November.
"We feel it will be a great tribute to him and the legacy which he has created for the town of Wigan," said chairman David Sharpe, Whelan's grandson.
Whelan bought Wigan in 1995 when they were in the fourth tier of English football (then called Division Three) and his huge investment, including the building of the DW Stadium, saw them reach the Premier League in 2005.