Gary Brazil: Forest academy manager thinks EFL Trophy good for young players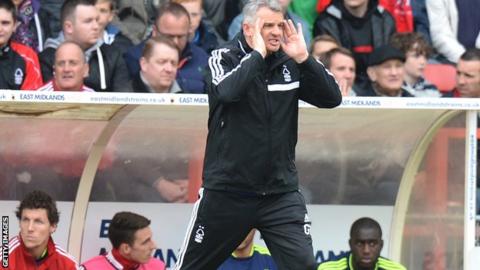 Nottingham Forest's academy manager Gary Brazil believes the EFL Trophy is a good bridge to first-team football for younger players.
The Reds are not involved in the competition as they are a Category Two academy, but Brazil is in favour.
"I think it's a good idea and bridges the gap to first-team football," he told BBC Radio Nottingham.
"The EFL Trophy gives the young players the opportunity to play against league teams and to get a taste of it."
EFL Trophy round-up: Oxford lose longest shoot-out - but qualify
With Forest not being a Category One academy, they were not invited to enter the competition, but Brazil admits they would have been interested in taking part.
"Absolutely. It is frustrating that we couldn't play in it and we'd love to play in it. I am sure in the future we will be looking at the opportunity of becoming a Category One academy.
"We are seeing boys coming through and sold for a considerable amount of money and boys that are coming through into the first team.
"We may be a Category Two academy in name, but with the quality of players and staff we are a Category One academy - and we are performing at that level.