Zlatan Ibrahimovic says Manchester is the best city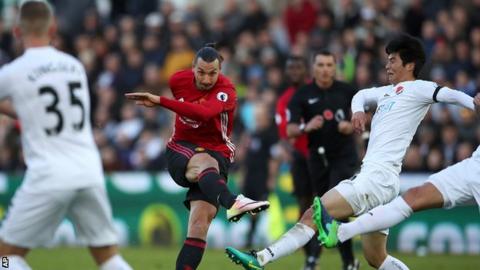 He has played for clubs in Paris, Milan and Barcelona, but Zlatan Ibrahimovic has said Manchester is the best city he has lived in during his playing career.
The Manchester United striker, 35, has played for eight different clubs in six countries, including spells at AC Milan, Inter Milan, Barca and Paris St-Germain.
The Swede, who was a free signing from PSG this summer, told Inside United that there was room for improvement in his performances on the pitch, but added he and his family were happy in Manchester.
"I heard a lot of things that the city [Manchester] is this, the city is that, the weather is like this and the weather is like that but, so far, everything has been good," said Ibrahimovic.
"The city is the best city so far. I come from Sweden, I don't have big expectations when it comes to outside football.
"I'm pretty simple, I'm a family guy. For example, when I was living in Paris, in four years I didn't go to see the Eiffel Tower once - I wanted them to change the Eiffel for my statue but they didn't do it! Maybe if they do it now, I will go to visit!"
'I will do more'
Ibrahimovic scored his 400th club career goal at the weekend in United's 3-1 victory over Premier League strugglers Swansea. His double ended a six-game goalscoring drought.
The former Sweden captain said he and his team, who are sixth in the league, would improve under manager Jose Mourinho.
"I think I could have scored a couple more goals than I have done," added Ibrahimovic.
"I missed pretty good chances which I didn't see myself doing. But it's a different game here. Here, it's different compared to the ones before.
"When you play a game here, there is no team controlling it, it's back and forth, back and forth, back and forth. That's the way the game is, you have to get used to it. With my performance, I am happy. I know I can do more and I know the team can do more."
Subscribe to the BBC Sport newsletter to get our pick of news, features and video sent to your inbox.