Brazilian Rafael Everton Lira aims to be a pioneer in Nigeria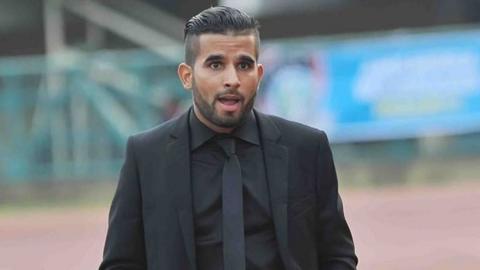 Brazilian Rafael Everton Lira is hoping his Nigerian FA Cup Success will pave the way for other coaches and players to follow him to the continent.
Everton is the second South American coach to win the trophy as IfeanyiUbah beat Nasarawa United 5-4 on penalties in Sunday's final.
His compatriot Paulo Roberto Diaz won both the league and FA Cup with Enugu Rangers in 1981.
It was also a first FA Cup win for the club that has a partnership deal with English side West Ham and play in the same colours as the Premier League club.
"I hope this will open the gate for other Brazilian coaches and players to come here," Everton told BBC Sport.
"I'm very happy to be the first South American coach to win this prestigious trophy in Nigeria because my name could stay in the records for 100 years.
"The club president Ifeanyi Ubah [a billionaire oil magnate] gave me the opportunity to work here and I managed to blend the Brazilian and Nigerian philosophy."
As well as the young coach there are two Brazilian players in the squad and their success has earned them a place in next seasons Confederation Cup.
The 27-year-old is a former Fluminense player and moved to Nigeria at the start of the season and led the team to fourth place in the Premier League.
The youngest manager to win the Nigerian FA Cup says a niggling thigh injury cut short his professional career with Sport Club do Recife.
"I stopped playing and went for my course where I was in the same class as (Atletico Madrid coach) Diego Simeone," said Everton.
"Then I was managing the Fluminense second team before I was approached by the club owner to come to Nigeria.
"Now I want to play with big managers and teams in Africa next year.
One of the club's Brazilian players Alberico Barbosa da Silva is full of praises for his manager and friend.
"This is big for both of us, we are happy to play with fantastic players and in a lovely country," Alberico told BBC Sport.
"We love it here and now we can look forward to competing against big teams in Africa."