Natasha Harding: Wales winger does not rule out playing in United States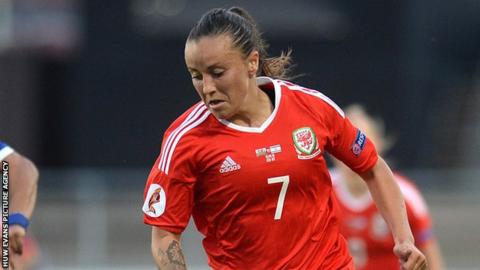 Wales winger Natasha Harding has not dismissed the idea of playing in the United States in the future.
Her proposed move to Washington Spirit who play in the National Women's Soccer League fell through in March last year after she was denied a visa.
She later joined Manchester City for a season and then signed for Liverpool.
"In football I've learned that nothing is ever certain. That was proved with me moving to Liverpool from City at the start of the year," she said.
"I'm not going to stand here and say that I want to move to the States. Anything can happen in football and that's what I've learned.
"I'm happy where I am now and we'll see what happens when my contract is up next year".
Liverpool finished the season fifth in the WSL after a 5-3 defeat against Arsenal on Sunday and Harding has been pleased with her overall contribution this season.
"There's been ups and downs. The first half of the season I was knocked for confidence and I didn't play my best football, but the second half of the season I think I've been one of our stand out players" Harding added.
"I'm one of the best wingers that we have and I think I've showed that and showed my capabilities so I'm happy with the second half of the season".
"I think we would have liked to finish higher than fifth. I'm a winner and I want to win things so I'm a bit disappointed [with the way that we finished the season]. "
The draw for the 2019 Women's World Cup qualifiers will be made early next year and after a disappointing Euro 2017 qualifying campaign, Harding is hoping for better luck next time around.
"We shot ourselves in the foot at the start of the last campaign by losing to Austria and Norway and drawing with Israel," she continued.
"We're very disappointed but Jayne has built a good foundation and hopefully we can build on that next season".