Karl Oyston: Blackpool chairman regrets libel cases against some fans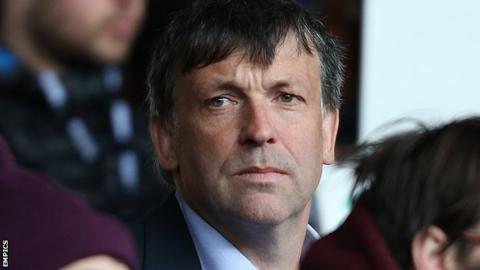 Blackpool chairman Karl Oyston says the club should not have started legal action against some fans.
Oyston and his father, club owner Owen Oyston, dropped their libel case against life-long supporter Jeremy Smith at Liverpool High Court last week.
However, they have been successful in suing other fans over online comments.
"With hindsight, we probably should not have taken some of the action we've taken," he told BBC Radio Lancashire.
"In other cases, I think we were absolutely right and justified to take action against people because we have to defend against some of the things people have said."
Oyston said Smith could have faced paying damages of up to £250,000 plus costs if he had lost.
Instead, the Oystons paid all costs after dropping the action against him.
"Even if we'd won, we lose, because then we have to collect money off people that sometimes maybe don't have it," continued the 48-year-old. "I think that is self-defeating and certainly not in the best interests of the club."
Oyston said there were still three or four legal matters against fans of the League Two club to be dealt with over pitch invasions that caused match postponements - against Huddersfield in the final game of the 2014/15 season, as well as a pre-season friendly against Lancaster City in July 2015.
"If we ever end up before the FA or Football League again, we need to do all in our power to make sure there is some barrier or some sanction," he stated.
"We can't just sit idly by and let people behave in that way and affect and damage the club."
Takeover latest
With falling attendances at Bloomfield Road in protest at the Oystons' ownership, many fans want to see a change at the club.
The Blackpool Supporters' Trust (BST) have adopted an "ethical boycott" of official merchandise and attending home matches.
However, since the BST launched a £16m bid to buy the club, which was rejected last year, there have been no new approaches.
"I wouldn't say it was an offer from the Supporters' Trust," added Oyston. "They were expecting us to hand over substantial sums, assets and cash to them and I wouldn't say it was ridiculous, but it was verging on that."