FA Cup: Oxford United chairman donates gate receipts share to Merstham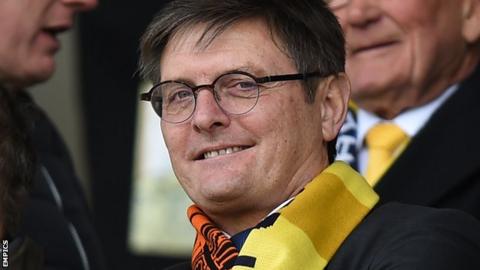 Oxford United have donated their share of the gate receipts from their FA Cup tie with Merstham to the non-leaguers.
League One side Oxford beat seventh-tier Merstham 5-0 in the first round.
"The spirit of goodwill in football needs to be enhanced," chairman Darryl Eales told BBC Radio Oxford. "It's the least we could do."
"Sometimes you have to look at the bigger picture and one of my pleas to the Premier League is that football at every level needs financing."
Saturday's tie set a new record attendance of 1,920 for Isthmian Premier Division club Merstham.
Both clubs received a fee of £67,500 after the tie was broadcast live on BT Sport, while Oxford also receive £18,000 for reaching the second round.
"It's not as if Oxford is flush with cash," Eales added. "But, we keep talking about the Whole Game Solution and the Premier League need to understand that football at every level supports the pyramid.
"The disproportionate share of the Premier League's cut of the cake is something that needs to be looked at."