Scott Brown: No timeframe on Scotland comeback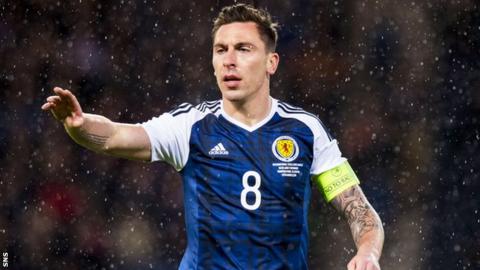 Celtic captain Scott Brown says he has yet to decide whether his return to international football will be permanent, or a one-off.
The 31-year-old stepped down from Scotland duty in the summer but returned to the national squad ahead of the World Cup qualifier against England on November 11.
"I don't know how many games it's going to be for," he told the Celtic website.
"But I'm coming back for this game and we'll see how my legs are."
The 31-year-old added: "First and foremost, my club form is more important than anything. The way I'm feeling and playing just now, I need to try to continue that as long as I possibly can.
"After this game I'll have a base to be able to see if I can continue to push myself with international and Celtic games.
"We'll play England, then see out November, and then Celtic play nine games in December, so it's going to be hard and a tight schedule but I'll need to see where my body is from there."
Brown has made 22 appearances in all competitions for Brendan Rodgers' side this season, rediscovering some of his best form in the process.
The 50-cap midfielder says his fitness, rather than his patriotism, or close relationship with Scotland boss Gordon Strachan, will dictate the extent of his international comeback.
"I'll know in my head how I feel," said Brown. "I'll know personally after the game. There's not another Scotland game until March and that lets me figure out a lot about myself and how my body is going to take the battering with no rest.
"I've enjoyed every single time I've played with Scotland. I'm so passionate for my country and after Gordon having been there for me, having to make that phone-call to him was the hardest thing I've ever done.
"But to be fair, he was brilliant with it and you could never ask for a better man. He's the guy I look up to and if I could have half his career as a player and manager it'd be incredible."