Crisis club Portadown rocked by another fine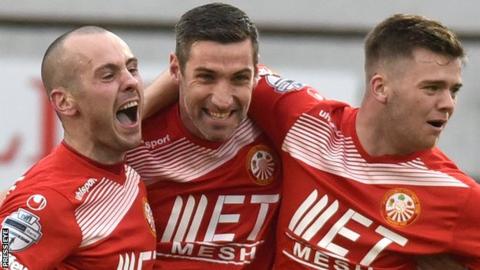 Crisis club Portadown have been fined £1,000 for publicly claiming that a payment they were to get from the NI Football League was late.
League officials acted after the Irish Premiership club said they failed to pay an earlier fine because of a delay in receiving the NIFL cash.
Earlier this year, the Ports were rocked by a £5,000 and 12-point deduction for paying an amateur player.
They have lost a further six points in two other 2016/17 disciplinary cases.
The team are currently on minus three points for the season, despite having won four matches.
Last Saturday, they beat Ards 3-1 but lost the points because one of their team, Robert Garrett, should have been serving a suspension.
In the latest case. the league said they took action after comments attributed to the club appeared in the Portadown Times.
"It was alleged that a fine imposed by the Disciplinary Committee of the IFA had not been paid because of a lack of income in the close season," a league statement read.
"It was also stated that Portadown were going to put a payment which the club expected to receive from NIFL (£4,200) towards the payment of the imposed fine. A representative of the club then directly said that the payment from NIFL was late and, as a result of this, a cheque of £3000 had to be stopped.
"After investigation by a commission appointed by the Directors of NIFL, which included the consideration of the written response from the club, NIFL wish to make clear that this statement grossly misrepresented the situation.
"The NIFL advance is only payable to a club once a signed Participation Agreement is received from that club. The advance to Portadown Football Club was made available on 2 August 2016, within 24 hours of the receipt of the club's signed agreement.
"It should be noted that the Participation Agreements were issued to clubs on 29 July 2016, a week after Portadown Football Club's deadline to pay their disciplinary fine.
This situation has caused considerable embarrassment to the Board of Directors of NIFL and has undermined the reputation and integrity of the Company. After consideration, it has been decided to impose a sanction on Portadown Football Club by way of a fine of £1000."