Alex Neil: Norwich City manager unfazed by criticism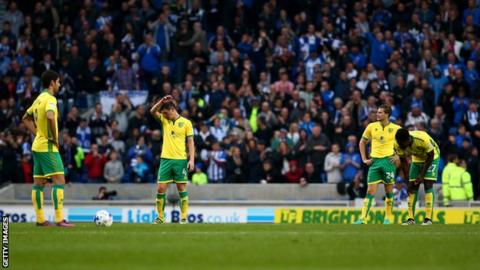 Norwich City boss Alex Neil says Canaries fans had "every right" to be critical after last weekend's 5-0 Championship thrashing by Brighton.
Norwich are fourth in the table after Premier League relegation last term.
"I don't really know how vicious (fan reaction has) been. I'm from the west of Scotland so I can understand how vicious people can be," said Neil.
"People want their club to do well and if they don't think that they've got every right to voice their opinion."
He continued to BBC Radio Norfolk: "I've got no issues with that, I never have done. People can say what they like. I just like to keep things on an even footing.
"I think it's the manner of the defeat which has hurt everyone. I can assure you it's hurt me as much as anyone else, so we want to work really hard to put that right."
Norwich led the Championship table on 15 October, but after two defeats in three games have slipped out of the automatic promotion places. They play Leeds on Saturday at Carrow Road.
"I think this season we've been a mixed bag at times," said Neil. "There's been performances that have been disappointing and unacceptable and others that have been excellent.
"Some of the games we've applied ourselves really well and could have had the games out of sight in the first half.
"There's no question the quality and desire is there, but it's got to be there on every occasion and that's where we've got to make sure we get the group to."