Neil Warnock: Cardiff City boss has 'admiration' for Rafael Benitez despite feud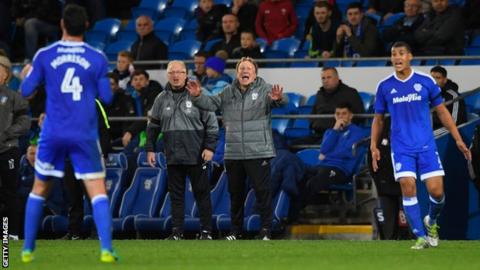 Cardiff City boss Neil Warnock says he admires Newcastle manager Rafa Benitez.
Warnock criticised Benitez in 2007 over what he felt was a weakened Liverpool side in their defeat by Fulham, which relegated Warnock's Sheffield United.
The last time the pair met, Warnock threatened not to shake Benitez's hand, but now says he has been impressed with the Spaniard's loyalty.
"He comes to Newcastle and sees them relegated but sticks with them," he told BBC Radio Wales Sport.
"You have to give him credit, he was at Real Madrid a year ago."
The Bluebirds, just one point outside the Championship relegation zone, travel to league leaders Newcastle United on Saturday and Warnock has paid tribute to the job done by Benitez.
"He thinks it is a special club and it is," said Warnock. "I have to say how much I admire Rafa at the minute. To stick with it, a man of his stature, from Real Madrid to Newcastle United and relegation and to stay.
"I know he will be on a good salary, but it is not money that motivates you at our stage in our careers. It is wanting to win things."
Warnock added that he would never entirely forgive the Liverpool team selection of 2007 that saw his Sheffield side sent down.
"What has gone on in the past, I don't think that is going to go away, really. I was disappointed at the time in his team selection, but that is gone now," he said.
Warnock expects a tough game at St James' Park but thinks playing in front of a big crowd will lift his team.
"You're in football for games like this, 50,000 screaming in black and white and playing against lowly Cardiff.
"It is a David and Goliath game. You've got to enjoy it - it's a bonus game. They've won seven on the trot so it will be difficult but it's another challenge.
"We feel they have got the best squad ever seen in the Championship. We feel we can have players who can cause them problems, but we have to have everyone on top of their game."