Graham Westley: Newport County boss says Grimsby managerial link is a distraction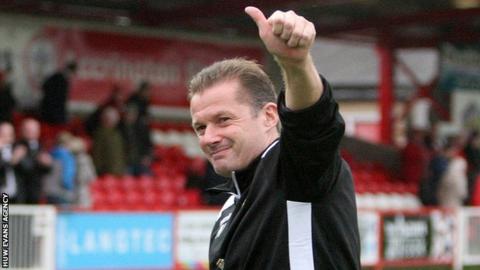 Newport County boss Graham Westley has branded rumours linking him with the Grimsby job as "nonsense" and a "distraction."
The club has said it would not welcome any approach for their manager who has been in charge for less than a month.
Westley said the speculation was a distraction ahead of Newport's FA Cup tie at Alfreton, but stopped short of dismissing any interest in Grimsby.
"Experience teaches you not to get caught up in nonsense," said Westley.
"Get caught up in the next game. Get caught up in winning the next games because if you win enough games in the end Manchester United come in for you.
"There will be rumours about managers, about players, at any small football club, there will always be rumours going on. Somebody said to me, you are off to MK Dons, you are going to Grimsby, and I was busy working on beating Alfreton.
"To be honest I don't know what the length of my commitment is here. But I accepted the offer to manage this club and I hope so far I've made a positive difference.
"It's always fascinating as a football manager when you have a big FA Cup tie coming up and distractions keep getting thrown in."
Westley is hoping the trip to Alfreton on Sunday, 6 November, can provide a financial boost to the Exiles, who are bottom of League Two.
Newport will be hoping to avoid becoming victims of a Round One giant-killing by the National League North side.
He added: "This club need to win at Alfreton, it needs the money associated with it. There's hard-cash at stake. It wants the fairytale and the romance the FA Cup brings," he said.