Cambridge United: Barry Corr injury 'not black and white'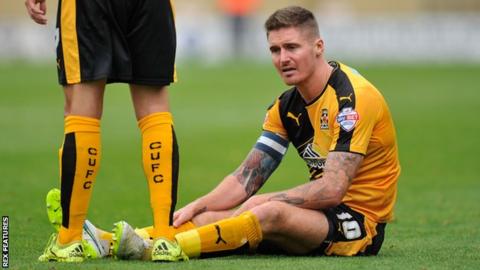 Cambridge United manager Shaun Derry says the extent of striker Barry Corr's knee injury "is not black and white".
The 31-year-old joined the U's from Southend in June 2015, but has not featured since undergoing knee surgery in January.
"It's not a clear injury. How long is a piece of string? That's my outlook on it," said Derry.
"I was never envisaging it would be as long as this, but sometimes on the odd occasion you find this."
Corr scored 12 goals in 24 matches for Cambridge last season before his injury. Derry's side are the lowest scorers in League Two this season with 13 goals.
Derry continued to BBC Radio Cambridgeshire: "I think you look at January transfer window, if there's a formula found very quickly and Barry doesn't have the pain then you look forward and you take it as a real added bonus.
"But I'm not holding all my hopes in the Barry Corr camp. That would be wrong of me, it would be too much pressure on him."