Blackpool: Owen and Karl Oyston drop legal case against supporter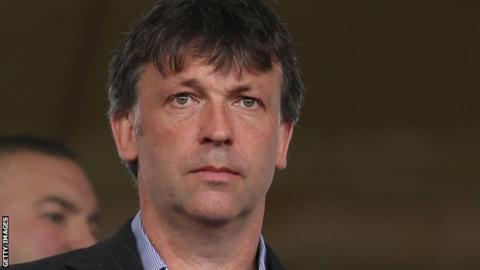 Blackpool have urged supporters to get behind the League Two club again after owner Owen Oyston and chairman Karl Oyston dropped legal action against a life-long fan.
The Oystons had planned to sue Jeremy Smith for libel for his part in protests against their ownership.
However, they have now changed their mind about pursuing the case.
"It is accepted that the club's supporters may sometimes air views inappropriately," said a statement.
"And those expressions are borne from the same frustrations the club's owners bear."
Blackpool, who dropped from the Premier League to League Two in five years, have seen their supporters involved in demonstrations, match boycotts and social media campaigns over the way the Oyston family run the club.
"This statement is a signal to all supporters that the club will look to conclude legal matters so that all of us can concentrate on the future and not rake over the past, which has been counter-productive and damaging to us all," the statement added.
"The club urges all supporters, both those attending matches and those choosing not to, to now support the manager and players to achieve success once more."
'No act of benevolence'
Blackpool Supporters' Trust (BST) have, however, contradicted the claims of the Oyston family that they had a change of heart about the case.
Last year the Trust attempted a £16m takeover of the Lancashire side that was rejected by Owen Oyston.
"This was no act of benevolence," said a statement. "Just a couple of days ago, the Oystons applied to have Jeremy's defence struck out and to increase their claim for damages from £25,000 to £250,000.
"The fact that the Oystons have been left with a very hefty bill for all costs suggests that they had no option but to drop a suit that need never have been brought.
"This appears to be a case of the Oystons acting in their own best interests rather than those of the club or its supporters."
Continued protests
In November 2015, the owners won £20,000 in damages after they were defamed by a fan David Ragozzino on a website.
They also had a number of fans apologise for comments made to them that year, while Karl Oyston won £30,000 of libel damages in May.
The Blackpool Supporters' Trust (BST) have adopted an "ethical boycott" of official club merchandise and attending home matches at Bloomfield Road this season.
The Tangerines face National League North side Kidderminster Harriers in the FA Cup on Sunday and the supporters' trust have urged their fans to donate money to the visitors who are set to miss out on gate receipts because of the expected low attendance.